You'd be hard pressed to figure out who is having a tougher week: the mayor of Rio de Janeiro, Brazil or Donald Trump. Both, currently, are international disasters of sorts in the headlines race, though I would assume Trump is slightly less threatening to babies than Zika (slightly).
It's been a rough go of things ever since the end of the Democratic National Convention last week for Donald Trump, who has needed a full team of emergency responders to continually take his foot out of his mouth at every turn. And it's indicative in his poll numbers; in the most substantive poll taken this week, former Secretary of State Hillary Clinton leads her Republican rival by 10 points — 49% to 39% — from the newest head-to-head figures.
Ironically enough, the poll itself didn't come from Quinnipiac, CNN/ORC, or the unofficial Mediaite Intern poll; it came directly from Fox News itself, who damn near almost pulled a hamstring this morning trying to spin the poll numbers in Trump's favor. Check out the lead chyron that Fox News went with shortly after 9:30 a.m. this morning: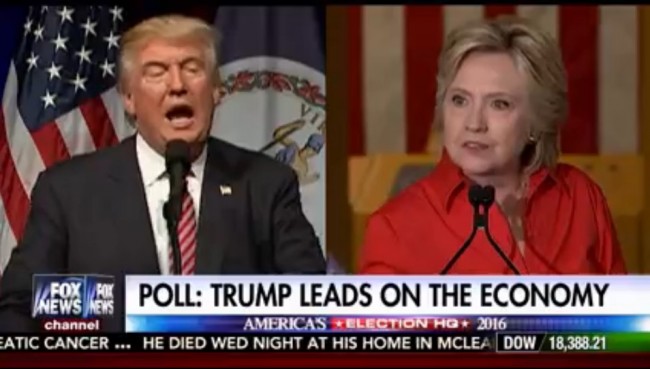 POLL: TRUMP LEADS ON THE ECONOMY. Yeah, Trump also leads the head-to-head matchup on dumb statements made about Purple Hearts this week and number of military families pissed off.
"Clinton leads by ten points," Fox News anchor Elizabeth Prann was forced to admit at the top of the segment because it's, you know, true. "But what do voters think about the issues when we dig a little bit deeper?" Paraded up front and center and featured as prominently as a Roger Ailes alibi was the topic "Trust to do a better job handling the economy."
The numbers fit the Fox News metric perfectly: Trump 50% compared to Clinton's Benghazi-stricken-hidden-email-server-shrill-voice 45%.
They should've stopped while they were ahead. Then came the disastrous truths of the rest of the Fox News poll: every metric that indicates Clinton in trouncing the real estate titan, including regarding the handling of nuclear weapons, where Trump is viewed with about the same level of trust as a toddler waddling near the little red button.
Eventually, Fox came around, though begrudgingly: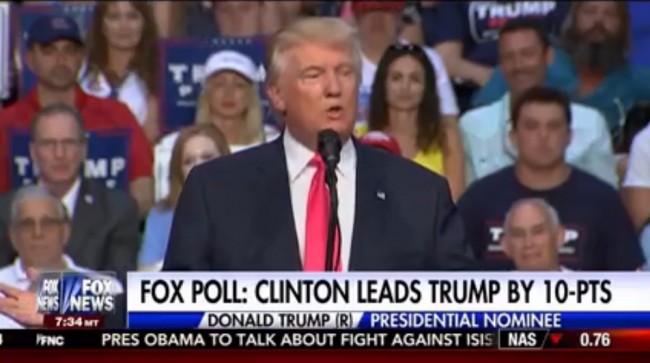 I for one am looking forward to election night when Clinton defeats Trump in a national landslide and Fox News rings out with the following chyron: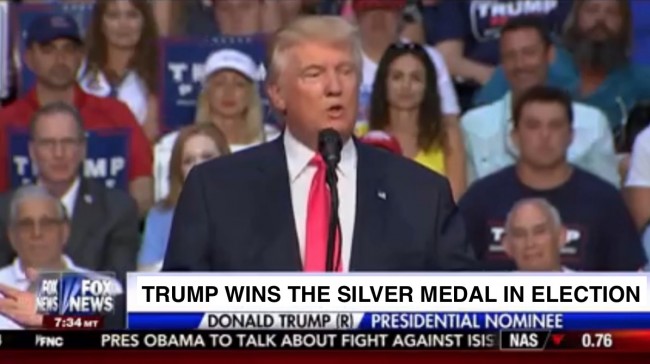 —
J.D. Durkin (@jiveDurkey) is an editorial producer and columnist at Mediaite.
[images via screengrab]
This is an opinion piece. The views expressed in this article are those of just the author.