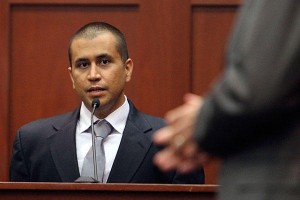 According to newly released evidence in the George Zimmerman case, "Witness 9" accused Zimmerman of molesting her over a period of 10 years. Despite the defense's efforts to prevent it, the documents were made public on Monday.
The woman, whose name was not released, said in a statement that Zimmerman began molesting her when she was six years old, and it continued into her teenage years. She said their families lived in different states and the incidents occurred during the annual visits, The Miami Herald reported.
Days after the Trayvon Martin shooting, the woman contacted investigators to tell them Zimmerman and his family were racists, didn't like blacks. Weeks later, as the investigation continued, she made these further accusations against Zimmerman.
The information she told told investigators, per the Orlando Sentinel:
Witness 9 told prosecutors the molestation began when she and Zimmerman, who is two years older than her, were young children. Her parents were moving to another state and she and her sister were sent to stay with Zimmerman's family in Virginia.

"We would all lay in front of the TV" to watch movies, she said, "and he would reach under the blankets and try to do things. … I would try to push him off, but he was bigger and stronger and older," she said.

He touched her improperly, she said, and at least once, when she was 12, forced her to touch him.

The last sexual encounter, she said, happened when she visited Zimmerman's family in Lake Mary. He directed her to lay on a bed and began to massage her, she said.

"I just got up and I ran out of the house and I got in my car," she said, adding that Zimmerman "only chased me to the front door."

She and her parents eventually confronted Zimmerman at an Orlando-area restaurant, she said. Zimmerman said he was sorry and left, she said.

In private, she said, Zimmerman was different than when he was around a group of people.

"He always was just, you know, very charming and personable with everyone … and just would laugh and entertain everybody," she said. "But he was different behind closed doors with me."
About the incidents, she also said, "I was a kid. I didn't know any better." Asked about why she chose to come forward now, she told investigators, "This is the first time in my life that I'm not afraid of him."
Despite the damning nature of the allegations, WFTV-Channel 9 legal analyst Bill Sheaffer said, "A jury will likely never hear about that" — given that it has no relevance to the crime with which Zimmerman is charged. "It should not come into evidence before a jury at all," he said.
(H/T Orlando Sentinel; Miami Herald)
Have a tip we should know? tips@mediaite.com