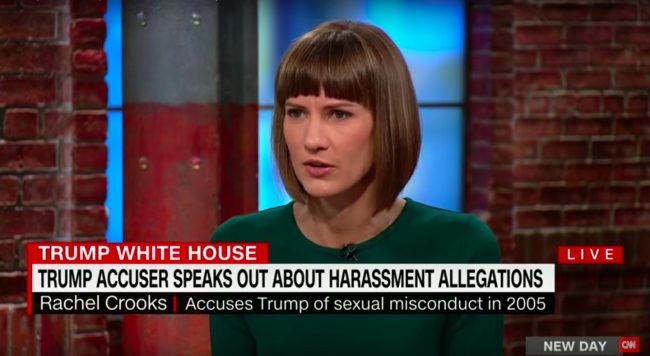 Women are rising up to oppose President Donald Trump in the streets and in the polls.
Rachel Crooks, who accused Trump of sexual misconduct in October of 2016, is running for the state legislature in Ohio as a Democrat.
"I think my voice should have been heard then, and I'll still fight for it to be heard now," Crooks told Cosmopolitan. "Americans are really upset with politics as usual, and I want to be a voice for them."
Crooks, who was inspired to run by the #MeToo movement, is currently the director of international student recruitment at Heidelberg University.
"What I've learned working, especially with international students, is just understanding different perspectives," she said. "Right now, it seems very polarized in politics. I think if you can empathize with others, you can possibly reach common ground."
The Ohio State Democratic Party has backed her campaign, and she will run against Republican Rep. Bill Reineke, a two-term incumbent, if she wins the Democratic primary.
Crooks has alleged that in 2005, when she was working as a receptionist in an office in Trump Tower, she introduced herself to The Donald, who proceeded to kiss her on both cheeks and then on the lips.
"I was so upset that he thought I was so insignificant that he could do that," Crooks told The New York Times in October 2016. Trump denies this and all other sexual harassment allegations.
[image via screengrab]
Have a tip we should know? tips@mediaite.com