Women Protest Indiana Abortion Law by Calling the Governor About Their Periods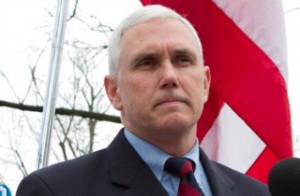 There's a new abortion law in Indiana that many women find so severe, they're taking to protesting it by calling the governor's office to talk about their periods and menstrual cycles.
No, seriously.
According to IndyStar, the new law signed by Governor Mike Pence requires the remains of aborted fetuses to be either interred or cremated. So some women started the movement #PeriodsforPence to keep the governor aware of their cycles.
Why? Well, they explained on their Facebook page:
Fertilized eggs can be expelled during a woman's period without a woman even knowing that she might have had the potential blastocyst in her. Therefore, any period could potentially be a miscarriage without knowledge. I would certainly hate for any of my fellow Hoosier women to be at risk of penalty if they do not "properly dispose" of this or report it. Just to cover our bases, perhaps we should make sure to contact Governor Pence's office to report our periods. We wouldn't want him thinking that THOUSANDS OF HOOSIER WOMEN A DAY are trying to hide anything, would we?
And boy did they deliver. In the past few days, lots of women have been posting on the group's Facebook page about how they called Pence's office (and the office of the bill's sponsor, Casey Cox) with vaginal status updates. Here's an example of one of the messages they sent:
Me: "Hello, this is Sue Magina again. I just hit a pothole on I-70. It was a doozy! I'm worried it might have shaken something around up in there, and I wanted to make sure that was addressed in this new abortion law. I knew Governor Pence would be worried. Thanks."
And on top of that, #PeriodsforPence spread around Twitter too:
Since @GovPenceIN is so concerned with your reproductive health, make sure he doesn't miss a bleed! #periodsforpence https://t.co/6VpyXeJs1c

— Planned Parenthood (@PPact) April 2, 2016
I hate that once again I have to "call" this man. But I'm gonna. #periodsforpence https://t.co/SaWP2jTCBM

— Audra McDonald (@AudraEqualityMc) April 6, 2016
.@GovPenceIN just wanted to let you know my menstrual cycle is half over and my flow is pretty heavy today. #periodsforpence

— Samantha Kyle (@SamanthaKyle) April 6, 2016
#PeriodsForPence
You never know what might be a miscarriage. Will be sending all future periods to you for disposal. Thanks!
@GovPenceIN

— Wendy (@Wendy61342557) April 3, 2016
Dear @GovPenceIN: My period started on Friday, stopped for most of the day yesterday, but came back. Please advise. #periodsforpence

— Jamie Frevele (@jamiefrevele) April 3, 2016
[h/t CNN]
[image via screengrab]
— —
Follow Josh Feldman on Twitter: @feldmaniacz
Have a tip we should know? tips@mediaite.com
Josh Feldman - Senior Editor