WSJ Columnist: If GOP Nominates Rand Paul, They Deserve Another 'Landslide Defeat'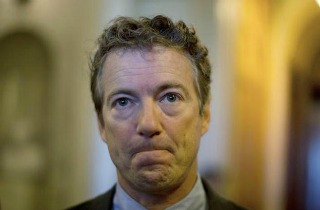 In a tongue-in-cheek column in the Wall Street Journal on Tuesday, columnist Bret Stephens backed Sen. Rand Paul (R-KY) to be the Republican Party's next presidential nominee. He wrote that Paul's nomination would lead to "another humbling landslide defeat" for the GOP and, if the party did back Paul over a variety of more qualified candidates, the party has larger problems that will take more than one election cycle to address.

Stephens noted, mockingly, that former Florida Gov. Jeb Bush is not qualified for the presidency because he is "insufficiently hostile to Mexicans" and "holds heretical views on the Common Core," which is an issue he sarcastically observed is of paramount importance to American voters. Further, his last name is also disqualifying, as are names like Clinton, Kennedy, or even Paul.
Furthermore, Stephens added, New Jersey Gov. Chris Christie is also disqualified having presided over an administration in which aides closed two lanes of traffic for three days ostensibly to pursue political revenge. Such a scandal, he continued, precludes one from seeking higher office — unless, again, that person's name is Clinton.
RELATED: Rand Paul: Won't 'Take All the Credit,' But Lawsuit Against Obama Forced NSA Changes
Stephens went on to chide Paul for associating with Jack Hunter, a former aide and co-author of Paul's book who called himself the "Southern Avenger" – a relationship he only terminated after it was exposed in The Washington Free Beacon. Furthermore, Paul's implication that former Vice President Dick Cheney used the attacks of September 11, 2001 as an excuse to invade Iraq in order to enrich his friends is also, in Stephens' opinion, a black mark on the junior Kentucky senator's career.
He closes by asking Paul to be open and clear when he issues this serious charge. "Let's not mince words," the WSJ columnist insisted. "This man wants to be the Republican nominee for president."
"When moderation on a subject like immigration is ideologically disqualifying, but bark-at-the-moon lunacy about Halliburton is not, then the party has worse problems than merely its choice of nominee," Stephens concludes.
[photo via Gary Cameron/Reuters]
 — — 
>> Follow Noah Rothman (@NoahCRothman) on Twitter
Have a tip we should know? tips@mediaite.com