WSJ Defends Tom Perkins' 'Nazi' Comparison: Liberal Critics 'Making His Point'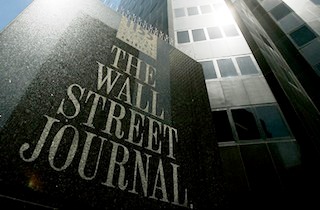 The Wall Street Journal editorial board published an editorial Thursday morning defending venture capitalist Tom Perkins' letter to the editor last weekend, in which he claimed America's wealthy were as stigmatized as the Jews had been in Nazi Germany.
Noting that the "unfortunate" comparison may have made the letter "the most-read" in the paper's history, the editors went on to lambast its many critics. "The irony is that the vituperation is making our friend's point about liberal intolerance," they wrote, "maybe better than he did."
The editors specifically called out and belittled rival publications like Bloomberg and the New York Times:
While claiming to be outraged at the Nazi reference, the critics seem more incensed that Mr. Perkins dared to question the politics of economic class warfare. The boys at Bloomberg View—we read them since no one else does—devoted an entire editorial to inequality and Mr. Perkins's "unhinged Nazi rant."

[snip] Mr. Obama doesn't merely want to raise taxes on the rich to finance the government. He says "millionaires and billionaires" simply make too much money and deserve to be punished. Or as they say at the New York Times, they are "the undeserving rich." By the way, does that include the third-generation rentiers in the Sulzberger family?
The editorial went on to criticize New York Governor Andrew Cuomo for his recent comments telling social conservatives they were unwelcome in New York, and New York City Mayor Bill de Blasio.
"The liberals aren't encouraging violence," they concluded, "but they are promoting personal vilification and the abuse of government power to punish political opponents."
This is not the first time the board has come out swinging after a controversy. Following phone hacking charges against News Corp. in 2011, for instance, the board similarly attacked liberals and other publications, alleging the "Schadenfreude is so thick you can't cut it with a chainsaw."
[h/t WSJ]
[Image via screengrab]
——
>> Follow Evan McMurry (@evanmcmurry) on Twitter
Have a tip we should know? tips@mediaite.com