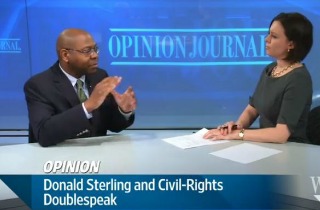 Jason Riley, the Wall Street Journal's Political Diary editor, does not find the NAACP's reaction to the controversy surrounding racist remarks made by Los Angeles Clippers owner Donald Sterling to be particularly genuine. Riley noted that the NAACP gave Sterling a lifetime achievement award and was prepared to give him a second so long as they benefited financially from their association with him. Riley noted that this "pattern of behavior" from groups like the NAACP and MSNBC host and activist Rev. Al Sharpton.

"I don't think that these comments are as surprising as the NAACP is pretending they are," Riley began. "This man has a long history of paying to make lawsuits – anti-discrimination lawsuits – go away, and this has to deal with his non-basketball activities."
RELATED: NAACP Head: Sterling Will Not Receive Lifetime Achievement Award
"The NAACP knows about this history, and yet gave him a lifetime achievement award and was about to give him a second one," the WSJ editor continued.
"This is another example of how the civil rights movement has become an industry," Riley added. "You have groups like the NAACP, Al Sharpton, Jesse Jackson, others who basically go around the country shaking down corporations and individuals for money."
"This guy gave them money," Reilly said of Sterling, "and that's what's most important to them."
He said that the organizations and individuals he named care more about "lining their own pockets" than aiding the minority community. He cited these groups opposition to charter schools and the expansion of Wal-Mart stores while taking funds from labor and teachers unions. "So, there is a pattern here," Riley asserted.
Riley closed by saying that President Barack Obama's comments on the Sterling controvery were fine, but that the president is not supportive of "racial unity."
"When you pal around with Al Sharpton, you are not into racial unity," he concluded.
Watch the clip below via WSJ Live:
[Image via screengrab]
— —
>> Follow Noah Rothman (@NoahCRothman) on Twitter
Have a tip we should know? tips@mediaite.com