WSJ: NSA's Surveillance of Israeli Leaders Included Private Convos of U.S. Lawmakers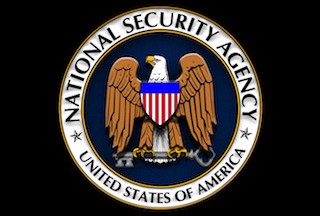 A big new report from The Wall Street Journal tonight reveals that not only was the NSA monitoring Israeli leaders, but in doing so, private conversations of certain members of Congress ended up in the dragnet.
Back in January 2014, after there was outrage from leaders in nations like Germany and Brazil about being spied on, President Obama announced that the U.S. will no longer eavesdrop on friendly heads of state "unless there is a compelling national security purpose." But tonight, the WSJ report cites current and former U.S. officials as saying the government still kept an eye on certain allies––Benjamin Netanyahu among them.
And apparently, the surveillance revealed that Netanyahu and various Israeli officials were attempting to undermine the nuclear talks with Iran by leaking certain information.
In addition, that "compelling national security purpose" from Obama's 2014 announcement was reportedly invoked by the president himself to continue surveilling Israel.
But in monitoring Israeli officials, there was apparently this unintended side effect:
The National Security Agency's targeting of Israeli leaders and officials also swept up the contents of some of their private conversations with U.S. lawmakers and American-Jewish groups. That raised fears—an "Oh-s— moment," one senior U.S. official said—that the executive branch would be accused of spying on Congress…

Stepped-up NSA eavesdropping revealed to the White House how Mr. Netanyahu and his advisers had… coordinated talking points with Jewish-American groups against the deal; and asked undecided lawmakers what it would take to win their votes.
CBS News White House Correspondent Mark Knoller tweeted out this response from the National Security Council:
WH/NSC neither confirms nor denies @wsj report of NSA eavesdropping on PM Netanyahu and other allied leaders over last 2 years.

— Mark Knoller (@markknoller) December 30, 2015
"We are not going to comment on any specific alleged intelligence activities," says @NSCPress in response to @wsj report on surveillance.

— Mark Knoller (@markknoller) December 30, 2015
NSC spksmn says Admin doesn't conduct foreign intelligence surveillance unless "there's a specific and validated national security purpose."

— Mark Knoller (@markknoller) December 30, 2015
In a statement on the surveillance report, NSC spksmn Ned Price reiterated Pres Obama's commitment that "Israel's security is sacrosanct."

— Mark Knoller (@markknoller) December 30, 2015
And then, naturally, there was comment from the man who we can all credit for bringing these things to our attention in the first place:
Did the NSA lie to Congress? Compare today's @WSJ to Sanders' clear 2014 question on spying: https://t.co/oxsCdzF5WZ pic.twitter.com/Ln0VKMQ5G7

— Edward Snowden (@Snowden) December 30, 2015
Days and days after swearing they wouldn't. https://t.co/5i0vUvr37M

— Edward Snowden (@Snowden) December 30, 2015
[image via screengrab]
— —
Follow Josh Feldman on Twitter: @feldmaniac
Have a tip we should know? tips@mediaite.com
Josh Feldman - Senior Editor