WSJ: Obama to Help Prepare Trump for Presidency After Mogul Was 'Surprised by the Scope' of Duty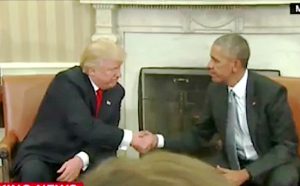 A new report gives us some insight into Donald Trump's closed-door meeting with President Obama, and it suggests that the outgoing president might be sticking around a bit to give his successor some guidance that he really needs.
The Wall Street Journal put out a report with new details about the meeting the two men had inside the White House. Apparently, Trump "seemed surprised by the scope" of the president's duties and that he and his team were unaware of the fact that the entire administration staff had to be replaced when he takes office.
Per WSJ:
During their private White House meeting on Thursday, Mr. Obama walked his successor through the duties of running the country, and Mr. Trump seemed surprised by the scope, said people familiar with the meeting. Trump aides were described by those people as unaware that the entire presidential staff working in the West Wing had to be replaced at the end of Mr. Obama's term.

After meeting with Mr. Trump, the only person to be elected president without having held a government or military position, Mr. Obama realized the Republican needs more guidance. He plans to spend more time with his successor than presidents typically do, people familiar with the matter said.
Some people took notice of the news, and they didn't really think it was the most reassuring sign of what's to come:
Damn. Obama is really taking one for the team here. https://t.co/9mx3u8LIRV

— Jordan Weissmann (@JHWeissmann) November 14, 2016
WSJ: Confronted with Trump team ignorance about executive branch, Obama plans extra time to tutor President elect. https://t.co/k5GOWljZTq

— Michael S. Derby (@michaelsderby) November 14, 2016
Max Bialystock has been elected president. https://t.co/CSuq9B1rCg

— Keith Olbermann (@KeithOlbermann) November 14, 2016
— Ben Howe (@BenHowe) November 14, 2016
Jesus… this is … this is remarkable. https://t.co/eDjB9wkEU7

— Joy Reid (@JoyAnnReid) November 14, 2016
Remedial education. https://t.co/tRKEInwtRW

— Jack Shafer (@jackshafer) November 14, 2016
Crying again. Seriously. https://t.co/l1yvMFLhrR

— Joan Walsh (@joanwalsh) November 14, 2016
Obama: "This is Joe Biden. He's the Vice President. You have to keep him." https://t.co/SlldqdEZmT

— Life's Scary Enough (@BilgeEbiri) November 14, 2016
Imagine having to tutor the guy who called you illegitimate so he doesnt completely fuck up beyond comprehension. https://t.co/rKLZNRzUG8

— Gideon Resnick (@GideonResnick) November 14, 2016
[Image via screengrab]
— —
>> Follow Ken Meyer (@KenMeyer91) on Twitter
Have a tip we should know? tips@mediaite.com