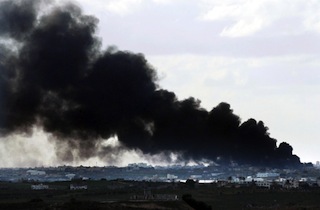 A Wall Street Journal op-ed by novelist and legal professor Thane Rosenbaum called into question Tuesday whether Gazans had "forfeited their right to be called civilians" by electing Hamas.
"What did Gazans think was going to happen?" Rosenbaum said. "Surely they must have understood on election night that their lives would now be suspended in a state of utter chaos. Life expectancy would be miserably low; children would be without a future. Staying alive would be a challenge, if staying alive even mattered anymore."
Rosenbaum's premise was not terribly different from that being argued by Israeli Prime Minister Benjamin Netanyahu, who has accused Hamas of intentionally creating civilian casualties to increase international media scrutiny. But Netanyahu maintained the civilian status of non-combatant Gazans. Rosenbaum, meanwhile, argued Hamas was "playing the long game of moral revulsion":
"Under such maddening circumstances, are the adults, in a legal and moral sense, actual civilians? To qualify as a civilian one has to do more than simply look the part."

[…] "On some basic level, you forfeit your right to be called civilians when you freely elect members of a terrorist organization as statesmen, invite them to dinner with blood on their hands and allow them to set up shop in your living room as their base of operations. At that point you begin to look a lot more like conscripted soldiers than innocent civilians. And you have wittingly made yourself targets."

[…] "There is nothing casual about why so many Gazans die; these deaths are tragically predictable and predetermined. Hamas builds tunnels for terrorists and their rockets; bomb shelters for the people of Gaza never entered the Hamas leaders' minds."
Rosenbaum is author of Payback: The Case for Revenge, if that clears anything up for you.
[h/t Wall Street Journal]
[Image via ChameleonsEye / Shutterstock.com]
——
>> Follow Evan McMurry (@evanmcmurry) on Twitter
Have a tip we should know? tips@mediaite.com