WSJ's James Taranto On Media's Emotional Investment In Racial 'Show Trial' Of Zimmerman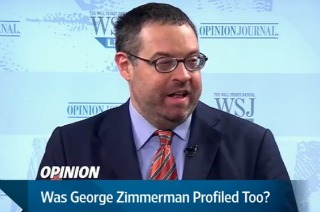 On Monday, Wall Street Journal columnist James Taranto expanded on themes he recently wrote about relating to Florida's thin case against George Zimmerman, the man accused of murdering Trayvon Martin in 2012. Taranto told WSJ's Mary Kissel that the prosecution of Zimmerman, in the words of one Slate columnist, was supposed to serve as a "referendum" on racial privilege in America. "There's a word for a trial that is held as a referendum – it's a show trial," Taranto said. "We don't do show trials in this country."

"Why has the press been so convinced from the very beginning that Trayvon was the victim of racial profiling?" Kissel asked.
"Well, it fits this sort of narrative of blacks as victims of white cops – or, in this case, a rent-a-cop," Taranto replied.
RELATED: As George Zimmerman Prosecution Implodes, A Media Invested In His Guilt Grows More Shrill
He noted that the local police should have taken the investigation into Zimmerman's seemingly unwarranted killing of Martin "more seriously." Taranto said that the initial outrage over Zimmerman not being charged with a crime was justified, but then the state went too far and overcharged him with second degree murder. "The prosecution's case is just falling apart," he observed.
Taranto observed that the racial profiling narrative has been turned on its head after the testimony of Rachel Jeantel who testified that Martin racially profiled Zimmerman too when he called him a "cracker."
"I think a lot of people have – a lot of media commentators – have an investment now, have an emotional investment in this case," Taranto said.
Watch the video below via Wall Street Journal:
> >Follow Noah Rothman (@NoahCRothman) on Twitter
Have a tip we should know? tips@mediaite.com