'You Can Say There Was No Whitelash' But There Was: Whoopi Goldberg Slams Trump Election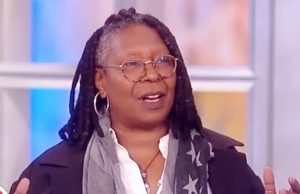 Today on The View, Whoopi Goldberg backed up Van Jones' assertion that the election of Donald Trump was partially a "whitelash" against a black President.
Jedediah Bila maintained that those against Trump and those for him could find common ground in believing that there is corruption in the establishment.
"You can say that there was no whitelash; there was a little bit of whitelash. I remember. I was there. I watched what's happened in America over the last eight years," Goldberg said.
Bila continued to push back, saying that Trump's win wasn't about race, so Goldberg brought up all of the obstruction and slander President Barack Obama faced, especially regarding his birth certificate.
"You don't have to understand it, you don't have to get it, but people of color know what this means," she asserted. "We know that it's part of the underlying conversation; it's been part of our conversation for eight years because no President has ever had to deal with this. None! There is a lot of that and whether you agree with it or not or not, as a black person and a person of color and a person that has been paying attention to this, it does have some effect."
Bila said that Trump couldn't have been elected because of racism because if Obama had been able to run for a third term, he'd have won.
Goldberg began to respond, but a special alert cut into the program and Hillary Clinton's concession speech began to play.
[image: screengrab]
Have a tip we should know? tips@mediaite.com