'You Can't Have a War on Drugs; You Can Only Have a War on People': CNN Townhall on Race Gets Real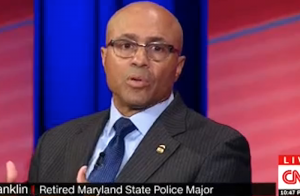 Tonight, CNN is presenting a townhall on race called Black, White, and Blue: America 2016. Families of the officers killed in Dallas, families of Alton Sterling and Philando Castile, and a variety of experts were called in to take turns explaining their perspectives.
A black surgeon who works at the hospital to which victims of the Dallas shooting were brought named Dr. Brian Williams stood up to share that while he respects the police, he is still afraid of them and has experienced action from them that seemed more severe than necessary.
One expert, Monifa Bandele, answered by validating his concerns by stating that there is a lack of accountability for police in America. Another, Neill Franklin, who works with Law Enforcement Against Prohibition, explained that the so-called "war on drugs" makes tense relationships between police and people of color possible by providing more reasons for cops to interact with black people, giving "more opportunities for something to go wrong."
"We need to look at our policies," he explained. Later, he said, "You can't have a war on drugs — and I hate that term, 'war' — but you can't have a war on drugs, you can only have a war on people. And the way it's manifested itself here, it ended up being mainly a war on black and brown people for things like mere possession of drugs, where people may have a substance abuse issue. Let me put it this way: We're attempting to solve a public health crisis with criminal justice solutions."
Don Lemon pointed out that he was hearing a lot of murmuring that indicated agreement among the audience members gathered for the forum, which didn't surprise Franklin at all.
[image via screengrab]
For more from Lindsey: Twitter. Facebook.
Have a tip we should know? tips@mediaite.com