'You F**king Right-Wing Piece Of S**t!": Anti-Israel Protestors Violently Accost Zionist Counter-Protesters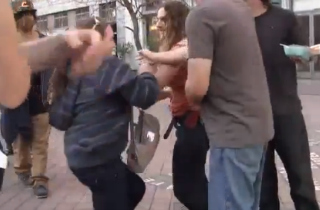 Last week in Oakland, Calif., a pair of Jewish counter-protesters were verbally and physically accosted by members of an anti-Israel protest. Video of the confrontation has been making the rounds on the web, showing a remarkably tense exchange between the groups.
The rally, held earlier this month, took place in the city's Frank Ogawa Plaza to remember the shooting of Tristan Anderson, an Oakland resident who was seriously injured in the West Bank four years ago while protesting against the Israeli military. He was shot in the face with a tear-gas canister, badly damaging part of his skull, right eye, and frontal lobe.
Two pro-Israel activists showed up to write opposing messages in chalk; Hannah Larson wrote the ubiquitous Hebrew phrase for "the nation of Israel lives," while her companion chalked the antagonistic "Hamas sucks pigshit."
When one female rallier, later identified as Gabby Silverman, spotted the pro-Israel messages, she pried the chalk from Larson's hand and then pushed and cursed at her.
"You get the fuck out of here!" Silverman shouts. "Get the fuck out of here, you fucking whore."
She continued as other protestors sought to restrain her: "You get the fuck away from me, you fucking right-wing shithead."
Further footage shows Larson and her friend being confronted by a man explaining that their counter-protest was insensitive given that the rally was about a man — Anderson — who was shot in the face by Israeli police. At one point, Larson's companion can be seen trying to rationalize that Anderson's injuries were a consequence of "rioting."
"You angered an entire crowd and you should get the fuck out of here," one man shouts at the counter-protesters. "You gonna stand up to 60 people or you gonna get the fuck out of here?"
"Go fuck up other people's shit," the man continues to shout before security guards arrived to break up the scene.
Turns out, Larson is a Seattle native who immigrated to Israel and 2010 and has served in their military. She told the Jewish Press that "as a former soldier, I was trained to maintain my composure in the face of that kind of provocation."
Silverman, on the other hand, is reportedly the girlfriend of the severely-injured Anderson, and has been arrested at a previous protest for hurling items at police. She wrote on the event's Facebook page that she does not regret her violent confrontation with Larson: "My only regret is calling her a whore. That was inappropriate and I'm sorry. Solidarity with whores everywhere!"
Watch the very NSFW video below, via YouTube:
[h/t
TheBlaze
]
— —
>> Follow Andrew Kirell (@AndrewKirell) on Twitter
Have a tip we should know? [email protected]