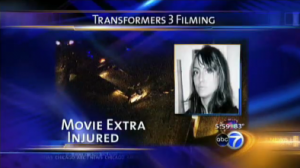 Truly sad news from Indiana as Gabriela Cedillo, a 24-year old woman who was acting as an extra on the set of Transformers 3 was seriously injured during an accident. The woman was being paid $25 to be one of many people driving their own cars down the highway as the crew filmed an elaborate stunt on the other side of the road. Something went wrong and a cable shot across the street and sliced through her car. This took place on Wednesday night. Thursday was supposed to be the last day of filming.
From Chicago's ABC 7:
"Cedillo is an aspiring actress from Little Village who works as an extra in movies. She was driving her 2006 Toyota on one side of the Cline Avenue median with stunts involving flying cars going on on the other side. During Wednesday's shoot a metal object struck her Toyota.
'The vehicle was being towed by another vehicle,' said fellow extra Blaine Baker. 'The cable between the two vehicles broke. It whipped around and sliced through the woman's car and sliced through her skull, apparently.'

Witnesses say Cedillo's car continued moving for almost a mile before it came to a complete stop. According to sources, the kind of stunt being shot on Cline Avenue involved flipping cars and was similar to a scene shot in Chicago on another day when a pressurized cannon was used to launch a car attached by a steel cable. They say that setup malfunctioned on Tuesday in Indiana."
ABC 7 is also reporting that extras only signed waivers about not talking to the media so this may end up being a large financial problem for the filmmakers. However, those will all be questions for the future, right now all that's important is the health of Cedillo who was rushed to the Loyola hospital. The Chicago Sun-Times is reporting that she had surgery and is now in stable condition. Watch the report below.
Have a tip we should know? tips@mediaite.com