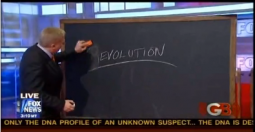 Glenn Beck is really very determined to make Progressives the new political four-letter word. Just wait, come this November's midterms middle-of-the-road pols will be swearing off the label with the same sort of ferocity they used to repel the term 'liberal' in the 1990's. To that end (I think), Beck spent part of today's show speculating that even John Lennon and the Beatles were Mao defenders (Mao has slowly evolved into the Kevin Bacon of Beck's world view: everyone is connected to him by one degree or another).
Case in point, according to Beck, are the lyrics to the song 'Revolution' which "spells it all out" (literally and figuratively). And alas, I do not think Beck reached this conclusion by listening to the record backwards. Says Beck:
I really listened to the words of this and I got to tell you the Beatles spell it all out, it's all about understanding how progressives have been operating…You say you want a revolution but how do you go about changing the world without waking too many people up that don't want your kind of change?
The answer is not that you form the most famous rock band in history. The answer is that you remove the letter 'R.' It's all about 'evolution.' Beck explains all in the video below. If you listen closely you can hear John Lennon rolling over in his grave.
This is not the first time, by the way, that Beck has drawn these comparisons. He spent a portion of a show back in August making a similar point. However, that was before he became the second most popular person on television so perhaps he felt it needed redressing. Maybe 'Revolution' is destined to be the 'I'm Every Woman' for the Beck generation. Beck video below, Beatles performing live below that.

Have a tip we should know? tips@mediaite.com