Arizona Gov's Press Secretary Posts Picture of Armed Woman Over Caption 'When We See Transphobes' Hours After Nashville Shooting [UPDATES]
Josselyn Berry, press secretary for Arizona Governor Katie Hobbs (D), tweeted about the use of violence against her political opponents just hours after six people died in a mass shooting at a Christian school in Nashville on Monday, posting a picture of an armed woman with the caption "us when we see transphobes" later that night.
UPDATE: Berry has resigned and the Governor's office has issued a condemnation.
Berry tweeted a picture of a woman wielding two pistol alongside the caption "Us when we see transphobes" late Monday night. Police had originally identified the Nashville shooter — who attended the school as a child — as transgender, but CNN has since reported that their "gender identity is unclear." A motive for the murders, which included three 9-year-old students, has not been confirmed.
Berry did not publicly acknowledge the shooting or victims on Monday, instead tweeting that evening that "If you work in the progressive community and are transphobic, you're not progressive. Period. End of story. It's not hard to understand but you're [sic] bigotry masquerading as feminism absolutely is."
When another user replied by observing that she was "Not sure these transphobic-from-the-left posers know who they're messing with," Berry replied with the following: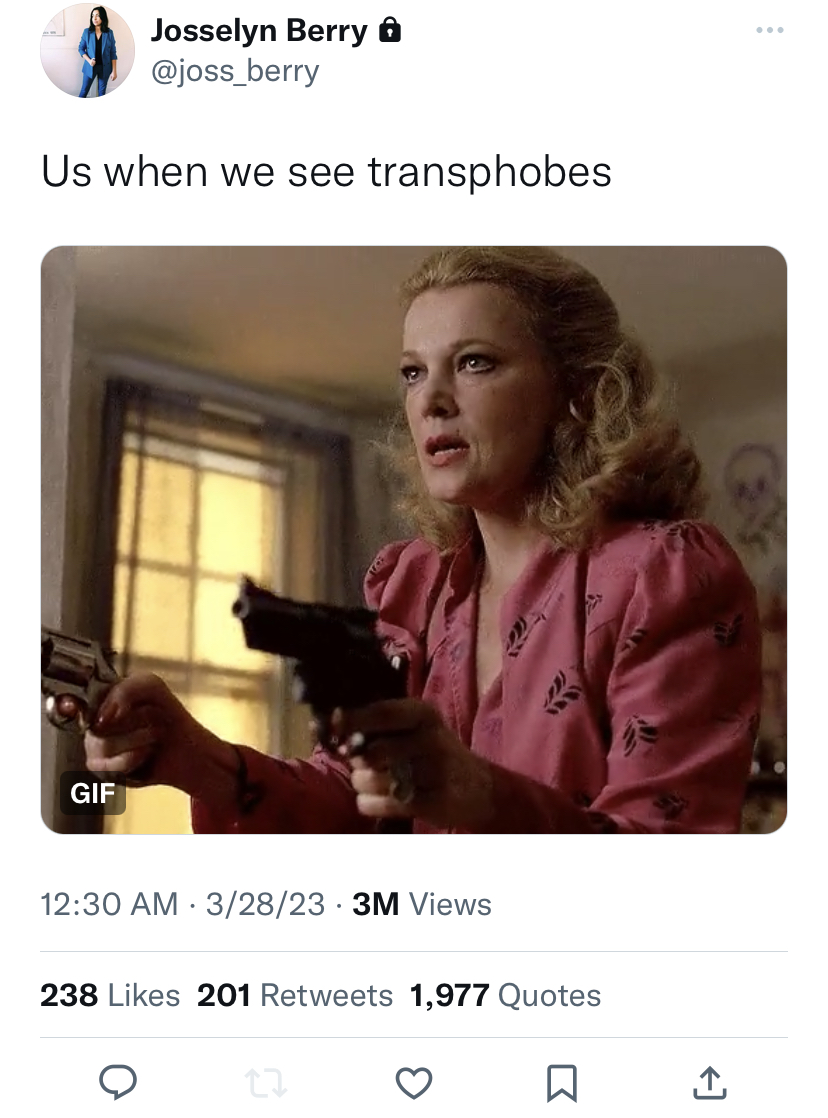 Berry's tweet was roundly condemned by a number of prominent figures on both sides of the political aisle.
Senator Ted Cruz (R-TX) called the tweet "horrific," while conservative commentator Matt Walsh declared that Hobbs must "fire her [Berry] immediately."
"No other answer will be acceptable," added Walsh. In a rare moment of bipartisan agreement, progressive firebrand Keith Olbermann concurred with Walsh's assessment.
"This, from AZ Gov @katiehobbs' spokesperson Josselyn Berry hours after the Nashville school shooting, is abhorrent and indefensible. And to go 36 hours [after the tweet] without comment?" remarked Olbermann.
"Barring the most improbable of explanations, she must apologize – and resign," he continued before calling the tweet "fodder" for Fox News' Tucker Carlson. "It is grotesque and tone deaf."
The backlash compelled Berry to protect her tweets, but not to apologize. She also did not delete the tweet, though it was eventually taken down by Twitter for violating the site's rules.
Have a tip we should know? tips@mediaite.com