Cohen Attorney Lanny Davis: CNN's Anonymous Sources Were Wrong About Trump Tower Claim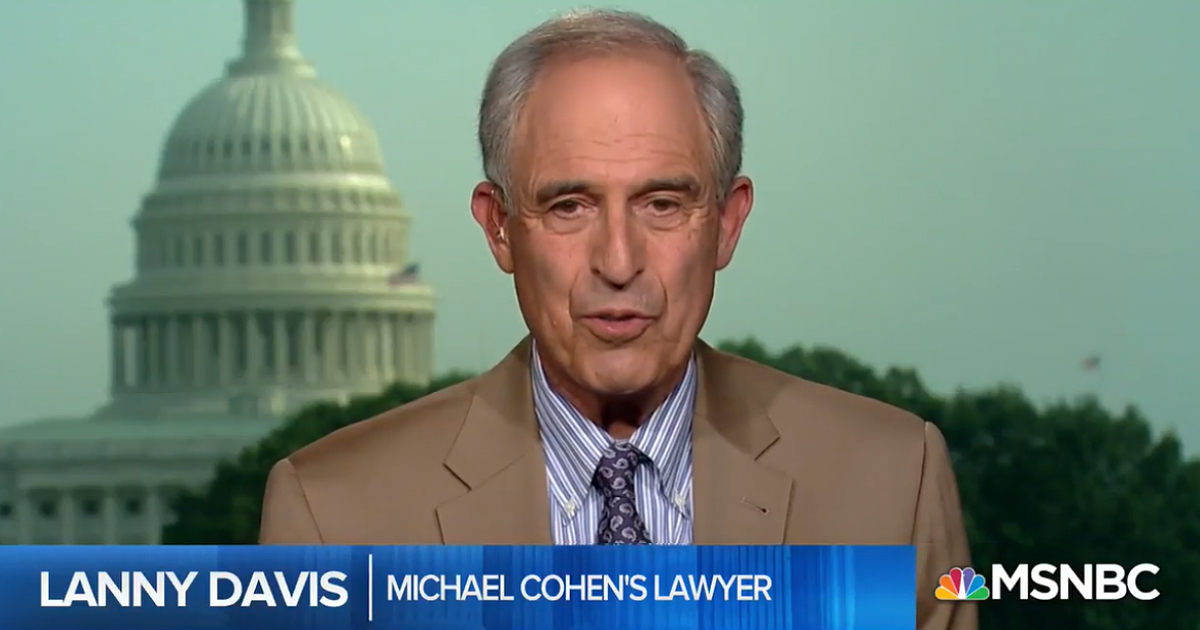 Lanny Davis was on TV all day yesterday, but one thing that didn't make it into press reports was the older story about what his client Michael Cohen can reveal with regard to Donald Trump's advance knowledge of the infamous Trump Tower meeting.
Late last night, however, Axios reporter Jonathan Swan brought it up with Davis, and the answer was very interesting.
First, recall that last year Cohen spoke before two separate Congressional committees investigation all things Russia and, at that time, did not assert that Trump had any advance knowledge of the meeting according to contemporary reporting. In fact, he told those committees that he "did not know" whether or not Trump knew about the meeting, Axios today clarifies.
However, there was big news in July of this year when CNN reported, citing anonymous sources, that Cohen not only knew, but that he was prepared to tell Special Counsel Robert Mueller that the President did in fact know in advance about the meeting. The report was also part of several CNN on air segments, exemplified by this dramatic segment from Cuomo Prime Time.
In that CNN report, which made quite a splash and was reported on and repeated extensively in the press, they stated that Cohen claimed "Trump knew in advance about the June 2016 meeting in Trump Tower in which Russians were expected to offer his campaign dirt on Hillary Clinton."
It was not a general assertion. CNN was very specific about what Cohen allegedly knew and supposedly was prepared to testify to.
"Cohen alleges that he was present, along with several others, when Trump was informed of the Russians' offer by Trump Jr. By Cohen's account," the report said. "Trump approved going ahead with the meeting with the Russians, according to sources." They also wrote that the sources said Cohen didn't "have evidence, such as audio recordings, to corroborate his claim, but he is willing to attest to his account."
But none of that is true, according to Cohen's attorney Lanny Davis. Swan reports that Davis told him "nothing has changed" since his testimony to Congress in 2017, and that he does not know whether Trump had advance knowledge.
He also expressed his frustration that they were unable to contradict or deny the CNN reports in July.
"It was painful. We were not the source, we could not confirm, and we could not correct," he told Swan. "We had to be silent because of the sensitivity needed in the middle of a criminal investigation."
Intelligence Committee Chairman Sen. Richard Burr (R-NC) and Vice Chair Sen. Mark Warner (D-VA) released a joint statement on Tuesday after the plea deal on the very topic.
What we can say is that we recently reengaged with Mr. Cohen and his team following press reports that suggested he had advance knowledge of the June 2016 meeting between campaign officials and Russian lawyers at Trump Tower. Mr. Cohen had testified before the Committee that he was not aware of the meeting prior to its disclosure in the press last summer. As such, the Committee inquired of Mr. Cohen's legal team as to whether Mr. Cohen stood by his testimony. They responded that he did stand by his testimony.
That is a good deal more definitive than "sources say", although nothing is ever the final word in D.C.
Conservative blog The Right Scoop noted this morning that President Trump, at the time of the CNN report, said "someone is trying to make up stories", suggesting that Cohen was inventing the tale reported by CNN.
…..I did NOT know of the meeting with my son, Don jr. Sounds to me like someone is trying to make up stories in order to get himself out of an unrelated jam (Taxi cabs maybe?). He even retained Bill and Crooked Hillary's lawyer. Gee, I wonder if they helped him make the choice!

— Donald J. Trump (@realDonaldTrump) July 27, 2018
However, at least as far as Lanny Davis has stated, and Cohen has told the investigating committees, he never made that claim in the first place. As the Right Scoop wrote, it does seem "someone was making up stories." The question is who.
There has been no update to the CNN report this week. The story is listed in the "Past Scoops" section of the Russia Investigation portion of the CNN website.
Read the full Axios story here.
[Featured image via screengrab]
—
Follow Caleb Howe (@CalebHowe) on Twitter
Have a tip we should know? tips@mediaite.com