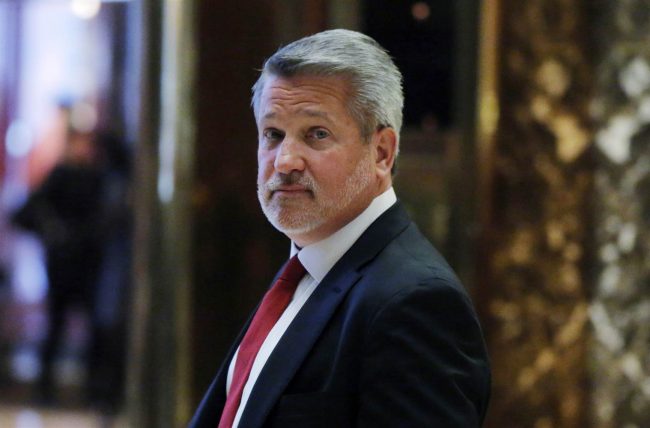 Bill Shine, the former co-president of Fox News, is set to take over the post of White House Deputy Chief of Staff for Communications.
ABC News reported Wednesday evening that Shine was offered the job by President Donald Trump, and that he had accepted.
Darla Shine, Bill's wife, congratulated her husband on Twitter:
Congratulations to my husband.
Bill Shine, ex Fox News President accepts White House Deputy Chief of Staff https://t.co/CDAz33D1S7

— Darla Shine (@darlashine) June 27, 2018
Fox News' own White House reporter John Roberts first broke word that Shine was in "final talks" to take over the post earlier Wednesday.
SCOOP: Former @FoxNews co-president Bill Shine is in final talks with @realDonaldTrump about becoming @WhiteHouse Communications Director. Announcement could be soon.

— John Roberts (@johnrobertsFox) June 27, 2018
The New York Times reported, based on sources, that Shine was offered the job by Trump.
Shine, a longtime executive at the network, served as its co-president for nearly 10 months after the ouster of longtime head Roger Ailes amidst a wave of sexual harassment allegations.
Shine, considered by many to be Ailes' protege at the network, left Fox News himself in the wake of a network-wide housecleaning, but has denied wrongdoing in the handling of sexual harassment allegations.
Since leaving the network Shine has reportedly been in contention for a position in the White House. He has also spent much of his time, Politico reported, down at President Donald Trump's Mar-a-Lago resort in Florida along with mutual friend Sean Hannity.
The role of White House communications director has been a merry-go-round in the Trump administration. It was a position first held by the remarkably ill-equipped Sean Spicer, who passed it off to an invisible Mike Dubke, who was replaced — for eleven thrilling days — by brash New York financier Anthony Scaramucci. Hope Hicks served calmly in the position for the second half of 2017, until she left the job unfilled after her White House boyfriend found himself embroiled in a domestic abuse scandal.
As the conventional wisdom goes, Trump is his own communications director. But given Bill Shine's stature as a longtime executive at Fox News, a network with close ties to the administration, he could prove to have staying power in the job.
UPDATE –– 6:06 pm ET: ABC News is reporting Shine has accepted a White House role:
JUST IN – @ABC News has learned Former Fox News Co-President Bill Shine has accepted a senior White House communications role. A formal announcement is likely by the end of the week. Shine was at the White House today.

— John Santucci (@Santucci) June 27, 2018
Fox News has some details on this new development too:
Former @FoxNews co-president Bill Shine will take on a senior communications role for @realDonaldTrump at the @WhiteHouse . While his official title is still being decided, it will likely begin with "Deputy Chief of Staff for ….. "

— John Roberts (@johnrobertsFox) June 27, 2018
[image via screengrab]
—
Follow Aidan McLaughlin (@aidnmclaughlin) on Twitter
Have a tip we should know? tips@mediaite.com
Aidan McLaughlin - Editor in Chief