Giuliani Says Trump Team Didn't Even Know Tower Meeting Was With Russians, But They Did
Rudy Giuliani's appearance on Meet the Press on Sunday produced, true to type, a number of eye-popping moments, but one particular comment about the infamous Trump tower meeting with Donald Trump Jr. and Russians was especially of note.
Talking to host Chuck Todd about that infamous meeting, Giuliani claimed more than once that the Trump team did not know, in advance, that they were meeting with a former representative for the Kremlin or anyone associated with the Russian government, only that they were there to get dirt on Hillary Clinton.
In fact, said Giuliani, they didn't even know she was a Russian at all.
"Any meeting with regard to getting information on your opponent is something any candidate's staff would take," he said. If someone said, 'I have information about your opponent', you would take that meeting. If it happens to be a person with Russian–"
"From the Russian government?" asked Todd incredulously.
"She didn't represent the Russian government, she's a private citizen. I don't even know if they knew she was Russian at the time," said Giuliani. "All they had was her name."
"I think they knew she was Russian, but, okay." said Todd.
"Well they knew it when they met with her, not when they set up the meeting," said Giuliani. "You told me, you asked me, did they show an intention to do anything with the Russians. Well all they knew was that a woman with a Russian name wanted to meet with them."
At first, he said he didn't know whether the Trump team knew, but then he said definitely they only knew she was a woman with a Russian name.
However, as the New York Times outlined here in July, they did in fact know that Natalia Veselnitskaya, or the meeting in any way, was Russian.
The June 3, 2016, email sent to Donald Trump Jr. could hardly have been more explicit: One of his father's former Russian business partners had been contacted by a senior Russian government official and was offering to provide the Trump campaign with dirt on Hillary Clinton.

The documents "would incriminate Hillary and her dealings with Russia and would be very useful to your father," read the email, written by a trusted intermediary, who added, "This is obviously very high level and sensitive information but is part of Russia and its government's support for Mr. Trump."

If the future president's eldest son was surprised or disturbed by the provenance of the promised material — or the notion that it was part of a continuing effort by the Russian government to aid his father's campaign — he gave no indication.

He replied within minutes: "If it's what you say I love it especially later in the summer."
So it says, "sensitive information but is part of Russia and its government's support" and the reply is ""I love it".
And not just that broad information, but specifically about Veselnitskaya, the "she" that Giuliani said they didn't know was Russian.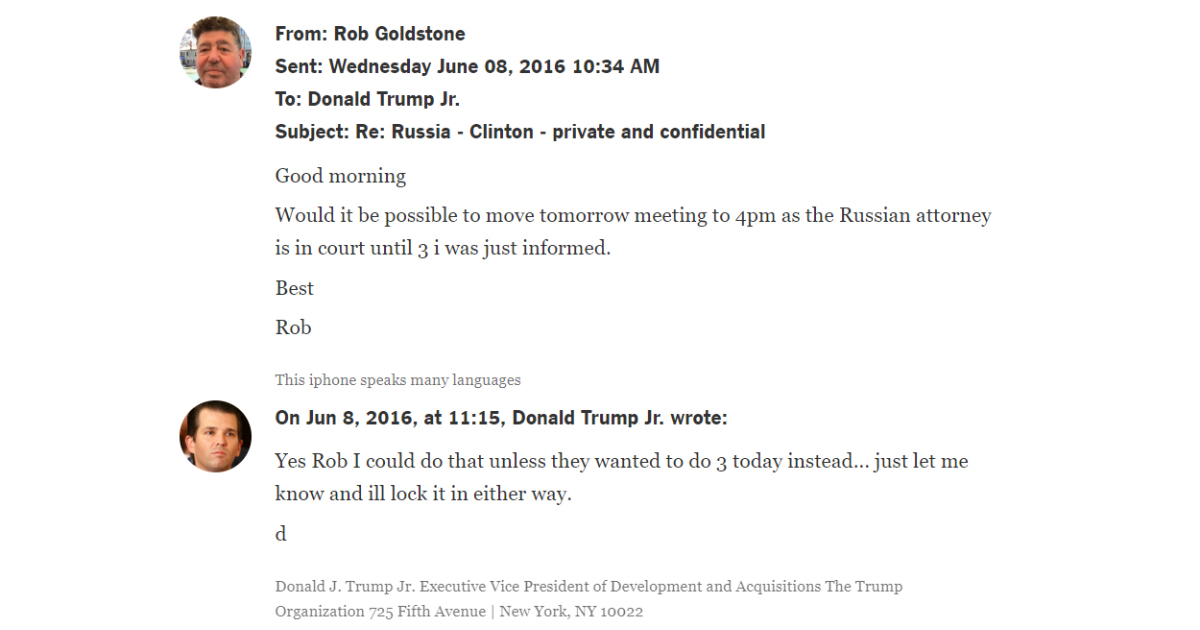 It says "the Russian attorney."
Pretty definitive.
Watch the clip above, courtesy of NBC.
[Featured image via screengrab]
—
Follow Caleb Howe (@CalebHowe) on Twitter
Have a tip we should know? tips@mediaite.com