John McCain: If Trump's 'Not Prepared to Hold Putin Accountable,' Summit Should Be Called Off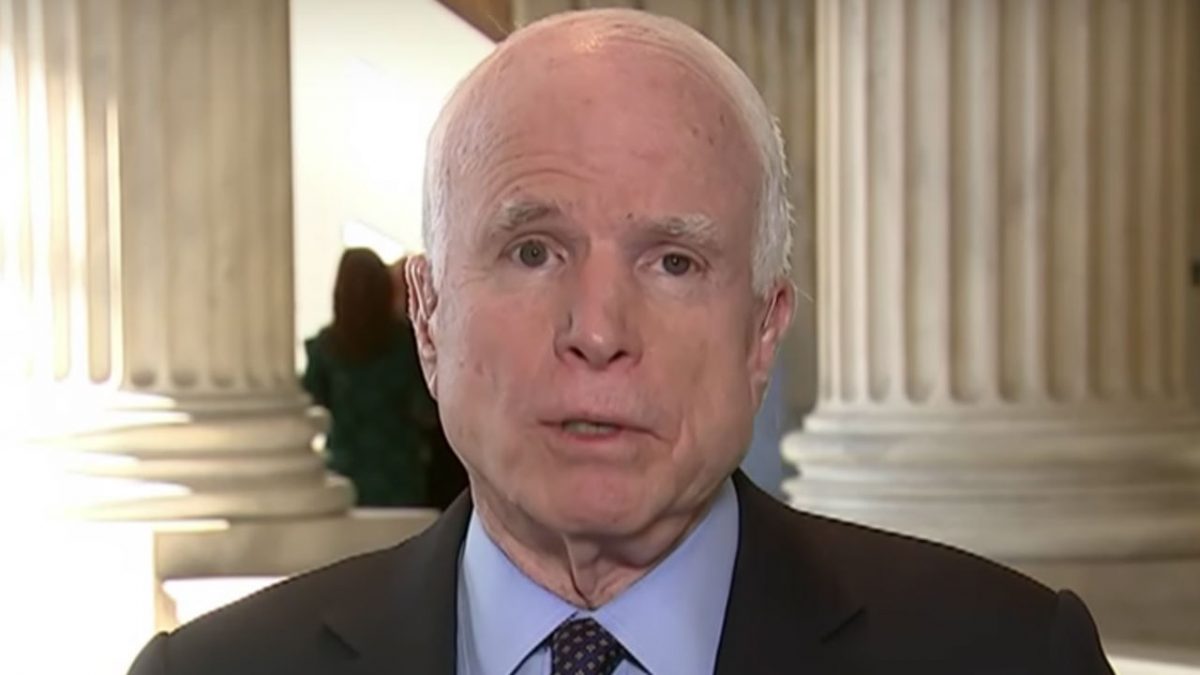 On Friday, Sen. John McCain (R-AZ) weighed in on the indictment of 12 Russian intel officers for election hacking and called for the summit to be pulled off if President Donald Trump is "not prepared to hold Putin accountable."
Just one day ago, McCain tweeted out this regarding the Helsinki summit: "As all eyes turn to #Helsinki, @POTUS must reverse his disturbing tendency to show America's adversaries the deference & esteem that should be reserved for our allies. He must be strong with #Putin & show willingness to defend the US & our allies against those who threaten us."
And after the news broke of the indictment of the Russian intel officers, McCain issued a stronger statement making it clear that "if President Trump is not prepared to hold Putin accountable, the summit in Helsinki should not move forward."
"Today's indictment is a result of the hard work of America's law enforcement and intelligence officials who dedicate their lives to bringing to justice those who wish to do us harm. These revelations add to a body of evidence confirming an extensive plot by Vladimir Putin's government to attack the 2016 election, sow chaos and dissension among the American electorate, and undermine faith in our democracy. And despite repeated warnings from our nation's top intelligence and military leaders, the Kremlin's efforts to weaken our institutions have continued unabated with insufficient action taken by the administration or Congress to strengthen our cyber defenses, safeguard our election systems, and deter further destabilizing activities.

"President Trump must be willing to confront Putin from a position of strength and demonstrate that there will be a serious price to pay for his ongoing aggression towards the United States and democracies around the world. If President Trump is not prepared to hold Putin accountable, the summit in Helsinki should not move forward."
McCain's statement comes on the same day as a number of top Democrats have also called for the Helsinki summit to be nixed or, in the words of Sen. Chuck Schumer, should not be a one-on-one with Putin and Trump alone.
Pres Trump keeps choosing Putin's word over the US intelligence community's & giving Kremlin a green light to undermine U.S. democracy & elections. It needs to stop. But will continue as long as GOP majority in Congress goes along.

— Senator Jack Reed (@SenJackReed) June 28, 2018
In light of today's indictments, there should be no one-on-one meeting between President Trump and Vladimir Putin on Monday. There must be Americans in the room. If the President won't make Russia's attack on our election the #1 issue at the summit, then it should be canceled.

— Mark Warner (@MarkWarner) July 13, 2018
President Trump should not meet with President Putin alone.

— Chuck Schumer (@SenSchumer) July 11, 2018
According to a Bloomberg News report, White House Press Secretary Sarah Sanders has made it clear the Trump-Putin show will go on.
"It's on," Sarah Huckabee Sanders tells @justinsink.

Trump has no plans to cancel his meeting with Putin on Monday.

— Jennifer Jacobs (@JenniferJJacobs) July 13, 2018
[image via screengrab]
Have a tip we should know? [email protected]