Man Who Was Caught on Camera Assaulting Teen Over MAGA Hat Identified and Fired From His Job
A video went viral this week showing a teenager in Texas being physically and verbally assaulted by man at a Whataburger restaurant for wearing a MAGA hat — which the man also took. That man has reportedly been identified as Kino Jimenez, a bartender in San Antonio, and he has now been fired from his job over the incident.
The 30-year-old Jimenez was fired by his employer, Rumble San Antonio — which they wrote about in a now-deleted Facebook post, as reported by Heavy.
Here is a screenshot we pulled from archive.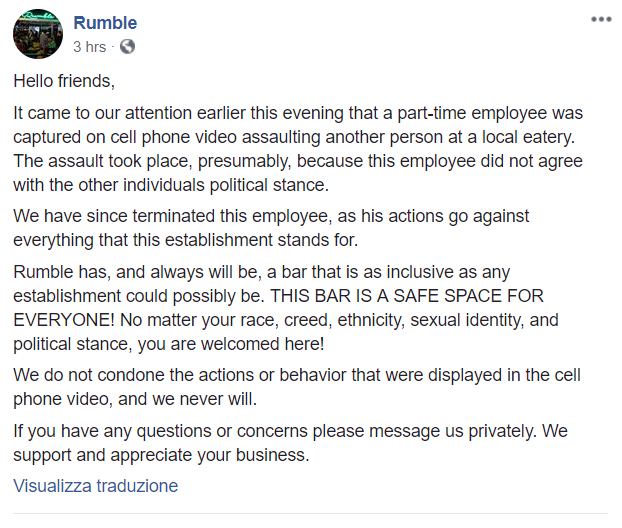 "Hello friends,
It came to our attention earlier this evening that a part-time employee was captured on cell phone video assaulting another person at a local eatery. The assault took place, presumably, because this employee did not agree with the other individuals political stance.

We have since terminated this employee, as his actions go against everything that this establishment stands for.
Rumble has, and always will be, a bar that is as inclusive as any establishment could possibly be. THIS BAR IS A SAFE SPACE FOR EVERYONE! No matter your race, creed, ethnicity, sexual identity, and political stance, you are welcomed here!

We do not condone the actions or behavior that were displayed in the cell phone video, and we never will.

If you have any questions or concerns please message us privately. We support and appreciate your business.
The fast food chain where the incident took place, Whataburger, has also released a statement.
"We were shocked to see this video and certainly don't condone this type of customer behavior in our restaurants. To be clear, no Whataburger employees were involved or witnessed the incident, and we ask that questions be directed to San Antonio PD as we continue supporting their efforts." – Whataburger Corporate Communications
[Featured image via screengrab]
—
Follow Caleb Howe (@CalebHowe) on Twitter
Have a tip we should know? tips@mediaite.com