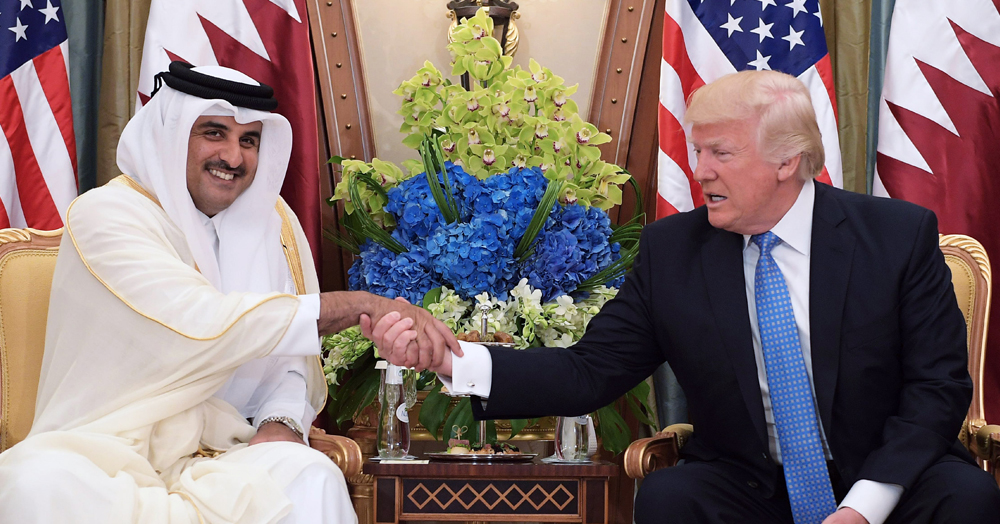 Over the last 18 months, oil-producing Persian Gulf nations have poured millions of dollars into "building ties" with the Trump administration, ABC News reported Monday. In particular, the report looks at Saudi Arabia, the UAE, and Qatar.
Even before the 2016 election, Qatar, the United Arab Emirates and Saudi Arabia were ramping up their courtship of Trump insiders.

Records reviewed by ABC News show that over the past 18 months those oil-rich nations have poured millions into efforts to build ties to President Donald Trump's administration.

Now, the long-simmering conflict between the Middle Eastern Gulf powers has devolved into allegations of hacking, subterfuge and espionage, and it has burst into public view in Washington in recent weeks as the governments wrestle for an upper hand with the Trump White House.
Middle East nations are always in the news for American presidents, but Qatar has previously been the subject of specific scrutiny in Trump's administration over son-in-law Jared Kushner's financial ties and, bizarrely, a lawsuit involving that nation, former Trump advisor Steve Bannon, and rapper Ice Cube.
Kushner's ties to Saudi Arabia have also previously been a focus. And just this month, news broke about a meeting with embattled Trump attorney Michael Cohen, as the report explains.
Earlier this month, a senior Qatari diplomat confirmed to ABC News he visited Trump Tower during the presidential transition, where he was spotted on videos with Trump personal attorney Michael Cohen.

Ahmed al-Rumaihi "was at Trump Tower on Dec. 12, 2016. He was there in his then role as head of Qatar Investments, an internal division of the Qatar Investment Authority, to accompany the Qatari delegation that was meeting with Trump transition officials on that date," according to a statement by al-Rumaihi's firm.
And there are more ties.
Other well-known Trump insiders with business ties to Qatar include Rudy Giuliani, whose company provided security advice to a state-run oil company. Last year, Qatar hired a firm run by Corey Lewandowski, the former Trump campaign manager, as one of seven lobbyists in Washington to help influence the White House, according to federal filings. Tom Barrack, one of Trump's closest friends, has had several business deals over the years involving the Qatar Investment Authority.
UAE has also hired Geoff Verhoff of Akin Gump Strauss Hauer & Feld. A donor to Trump's campaign presidential transition team, the RNC named Verhoff as a regional vice chairman in April 2017. Verhoff was one of eight individuals named to the RNC's finance leadership team with Broidy – a group that also included Cohen.
Beginning in late October 2016, Trump campaign donor Richard Hohlt, through his firm Hohlt Group Global, began serving as a consultant to Saudi Arabia on legislative matters and public affairs strategies, according to federal filings. Between January and April of 2017, the Saudi Ministry of Foreign Affairs paid Hohlt $431,254 in consulting fees. Hohlt was appointed by Trump to recommend candidates to be fellows at the White House and government agencies as a member of the Commission on White House Fellowships.
The bone of contention, though, isn't that many administration insiders have business ties to these oil-producing nations, which in itself is not unusual. Rather, the report rests on the two points that the nations has been creating financial ties specifically to obtain influence, and they are attempting to exercise that influence to alter policy and use financial influence with Trump officials to affect the outcome of their own internecine dispute.
The UAE, Egypt, and Saudi Arabia, among others, are in the midst of a major breakdown in diplomatic relations and engaged in what some refer to as a "Qatar-Saudi Arabia proxy war." It is that dispute over which they are attempting to exert influence.
"Without provocation, the blockaders have spent millions in the United States to tarnish the reputation of Qatar. The goal of their smear campaign and lobbying is to drive a wedge between Qatar and the United States – they have failed," Al-Thani added. The embassies of UAE and Saudi Arabia did not respond to messages from ABC News requesting comment.
Jon Alterman, director of the Middle East Program at the Center for Strategic & International Studies, summarized the implications for ABC.
"What seems to be happening here is people are using very specific relationships to effect very discreet things on a very large scale, and making money," Alterman said. "And the system is designed to be a system that can't be bent for any individual and what we're increasingly seeing is it's being bent for a small number of individuals."
Not all ties with the nations are favorable ones. Former Trump insider and fundraiser Elliott Broidy, for example, is currently suing Qatar over alleged hacking of his emails in what he says is retaliation for his anti-Qatari views.
Although as Haaretz reported today, Elliott, along with George Nader, have been the subject of a number of recent news reports alleging they were essentially selling their influence with the Trump administration and being paid in the form of huge consulting fees.
It should be noted that George Nader has been confirmed as a cooperating witness in the Mueller investigation.
Qatar's money operation in the United States is not exactly secret, nor is it limited merely to politicians. They have a major propaganda operation that extends all the way down to spreading "anti-Israel and anti-American propaganda in U.S. schools", as National Review reported in March of this year.
Qatar Foundation International presents itself as a beneficent charity, merely working to spread knowledge of different cultures. In fact, it is an agent of Qatari foreign policy, with the aim of influencing American schoolchildren to support the Qatari agenda.
It is that same machine attempting to peddle influence through Trump associates.
ABC's report attempts to sum things up briefly, but the various ties, relationships, and consequences are actually extremely complicated. It's worth investigating the possible purchasing of influence, but premature to conclude it.
[Photo via Mandel Ngan/Getty Images]
—
Follow Caleb Howe (@CalebHowe) on Twitter
Have a tip we should know? [email protected]
---