Putin Critic and Magnitsky Act Architect Bill Browder Live Tweets Sixth International Arrest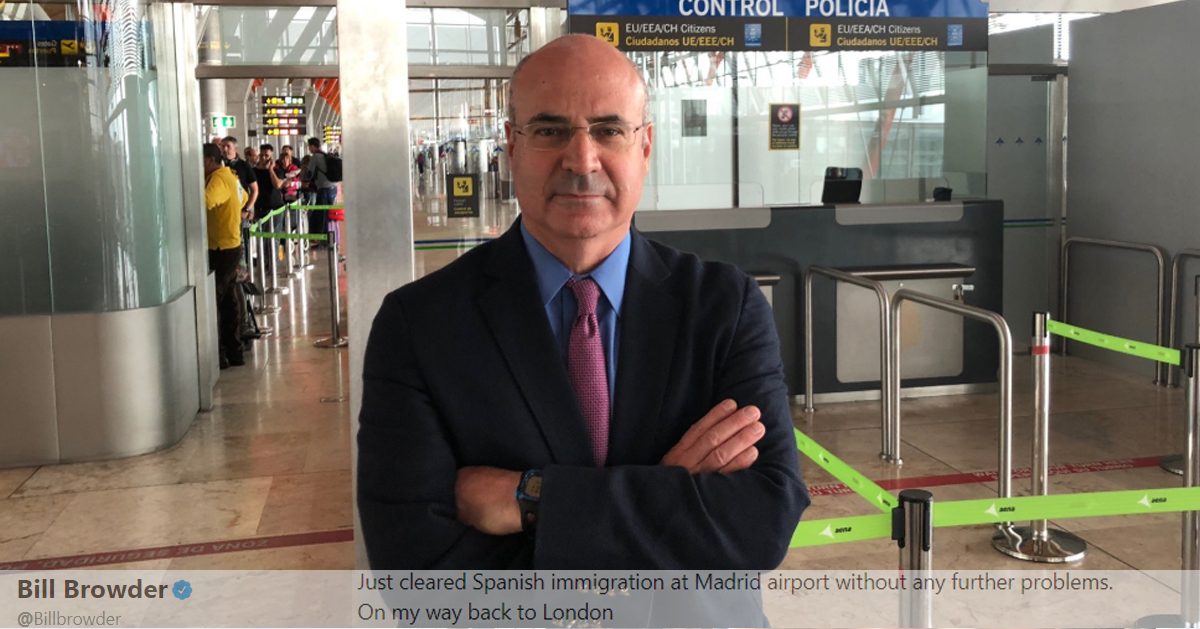 London-based investor William Browder, CEO Hermitage Capital, is a well-known and highly visible critic of the Kremlin and Vladimir Putin in particular. He was deeply involved in the Magnitsky case and the main reason the Magnitsky Act was passed. And Russia wants to stop him, he says.
This morning, Browder was arrested in Spain after Russia, for a sixth time, used Interpol's system to put out a warrant. Browder sent several tweets documenting the incident.
As a reminder, the public became more aware of the Magnitsky case in the last year as a result of the Trump/Russia story. Natalia Veselnitskaya, the Russian lawyer who set up the infamous Trump tower meeting with Donald Trump Jr., was previously a top opponent of the Magnitsky Act and lobbied for its repeal.
Veselnitskaya is a leading opponent of the Magnitsky Act, which the U.S. Congress passed in 2012. The law was named after Sergei Magnitsky, who was arrested in Russia after accusing officials of $230 million in tax fraud. He was reportedly beaten and not provided with proper medical treatment before dying in prison in 2009. The law imposes sanctions on anyone implicated in his torture.
Browder tweeted that he was soon released by the Spanish police after Interpol intervened.
In this Bloomberg report from October of last year, you can see how much the same thing happened then that happened today. But more interestingly is the fact that the process was supposed to be settled at that time.
Russia's claim to legitimacy is that Browder was sentenced in absentia to nine years in prison for tax evasion and financial crimes, charges which Browder obviously dismisses as a trumped-up attempt to silence him.
Although Browder tweeted that the Interpol General Secretary in Lyon "advised" Spanish police not to honor a Russian Interpol Red Notice, the agency claims there was no such notice.
"There is not, and never has been, a Red Notice for Mr Bill Browder," they stated. However, the October arrest did not involve a Red Notice either but was rather the result of a "diffusion notice," which Bloomberg describes as allowing countries to "temporarily bypass Interpol headquarters and unilaterally circulate requests for cooperation from other countries to arrest individuals before the organization can check for compliance."
The Federalist Society explains the difference.
An Interpol Red Notice, which is processed through each Interpol member country's National Central Bureau, seeks the arrest of a wanted person with a view towards extradition based on an arrest warrant or court decision issued by that member country. Diffusions are more informal electronic wanted alerts that member countries use to bypass the Red Notice system in order to achieve essentially the same goals.
That description is from a critique of the system. Browder shared his own criticism in the above tweet: "Interpol is incapable of stopping Russian abuse of their systems."
For a very in-depth explanation of the Magnitsky case, Natalia Veselnitskaya's involvement, and the story of Browder's investigation into the death of Sergie Manitsky, conservative writer Patterico's series on the subject is invaluable.
[Featured image via Bill Browder on Twitter]
—
Follow Caleb Howe (@CalebHowe) on Twitter
Have a tip we should know? tips@mediaite.com