Roger Stone Associate Told Him 'Hillary's Campaign Will Die This Week' in 2016 Texts Obtained by NBC News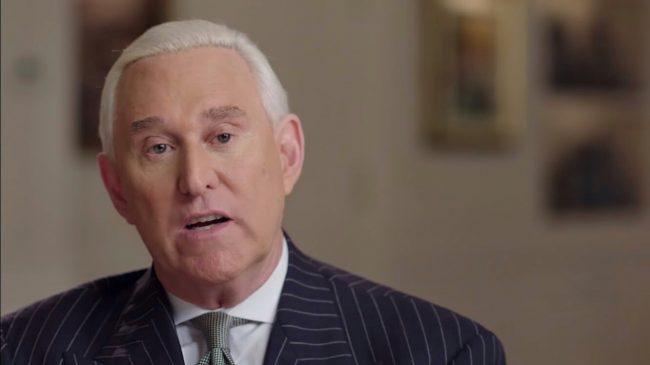 Donald Trump friend and associate Roger Stone, who helped with the 2016 campaign in a variety of devious ways, has been part of the Robert Mueller Russia probe and, recently, the subject lately of revealing dumps of texts between himself and radio host Randy Credico.
At the beginning of November, CNN released some of those texts, which showed a contentious relationship between the men as the Mueller investigation wore on, with accusations of "cooperation" and even threats of violence against pets.
On Wednesday, NBC News released a series of texts that were exchanged in 2016, ahead of the Wikileaks dump of Hillary Clinton emails, ironically. In fact, just before.
Six days before WikiLeaks began releasing Hillary Clinton campaign chairman John Podesta's emails, Roger Stone had a text message conversation with a friend about WikiLeaks, according to copies of phone records obtained exclusively by NBC News.

"Big news Wednesday," the Stone pal, radio host Randy Credico, wrote on Oct. 1, 2016, according to the text messages provided by Stone. "Now pretend u don't know me."

"U died 5 years ago," Stone replied.

"Great," Credico wrote back. "Hillary's campaign will die this week."
The texts show that Credico was updating Stone about the Wikileaks release of information as the process unfolded, and before it unfolded, although Stone then and now still claims that he was not coordinating with Wikileaks or Julian Assange on that information dump.
"These text messages prove beyond dispute that Randy Credico was the source who told me of the significance of the material that Julian Assange told CNN he had and would publish in June 2016 and that Credico's source was indeed a woman attorney who worked for WikiLeaks," Roger Stone said to NBC reporters. "If Randy said anything different to the grand jury, he perjured himself under oath."
To date, Trump associate George Papadopolous has admitted to investigators that he knew before the Wikileaks release that Russia had "thousands of emails" from and to Hillary Clinton that would be damaging to her campaign. Former Trump confidante and friend Omarosa Manigault has claimed that Trump knew in advance about the coming leak from Wikileaks. Trump has denied any such knowledge.
Stone and Credico were exchanging texts about the Wikileaks dump of Clinton emails facilitated by Russia at least as far back as August 27 of 2016, when Credico's texted to Stone that "Julian Assange has kryptonite on Hillary."
A month earlier, Trump famously said "Russia, if you're listening, I hope you're able to find the 30,000 emails that are missing."
In October, Stone tweeted "I have total confidence that @wikileaks and my hero Julian Assange will educate the American people soon #LockHerUp." That same day, Credico texted ""I think it's on for tomorrow," and, separately, "Why can't you get Trump to come out and say that he would give Julian Assange Asylum[?]"
(Photo by Mark Wilson/Getty Images)
Have a tip we should know? tips@mediaite.com