Rubio: Media 'Unwitting Collaborators' of Putin Effort, 'Covered Every Salacious Detail of the Leaks'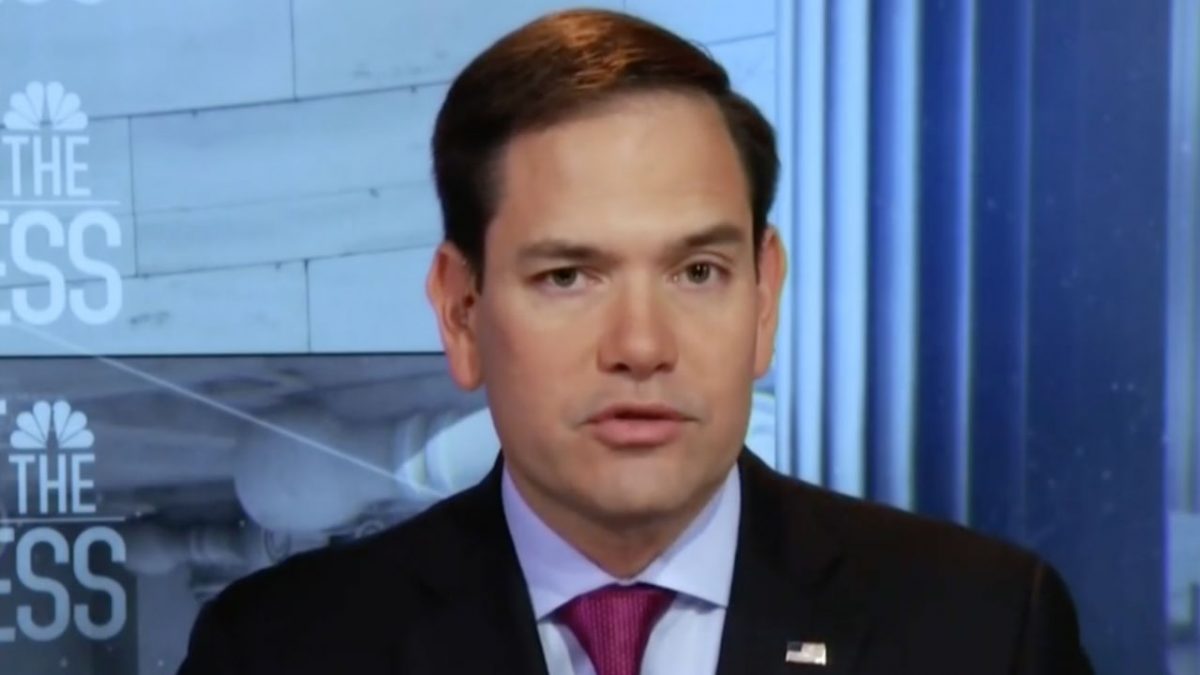 Sen. Marco Rubio (R-FL) responded to the news of the indictment of 12 Russian officials for election hacking by issuing a statement saying of course Russian President Vladimir Putin interfered in the United States election process.
"I don't 'believe' Putin interfered in our elections I know for a fact he did. But some important nuances are being completely ignored in the analysis, coverage & partisan reaction to today's indictments," Rubio wrote in his tweeted out statement Friday afternoon.
He continued on: "While Putin may have developed a preference for Trump that wasn't his primary objective and that isn't why he won. His goal was to exacerbate our political divisions and get us to fight each other even more. Something we already do a pretty good job of ourselves without his help."
Rubio then took a swipe at the media for their "unwitting" complicity, writing, "Second, the most influential yet unwitting collaborators of the Putin effort was the media which extensively covered every salacious detail of the leaks, but spent little time looking into who was behind the hacking and their motivation."
He then concluded by saying Putin will do this again and "it will be even more difficult to stop."
Rubio's statement comes on the same day as Sen. John McCain (R-AZ) issued a statement insisting that if "President Trump is not prepared to hold Putin accountable, the summit in Helsinki should not move forward."
A number of prominent Democrats have also called for the summit to be called off.
However, the White House said on Friday, via White House Press Secretary Sarah Sanders, that the summit between Trump and Putin will still go on as planned.
Read Rubio's tweets below:
I dont "believe" Putin interfered in our elections I know for a fact he did. But some important nuances are being completely ignored in the analysis, coverage & partisan reaction to todays indictments. 1/4

— Marco Rubio (@marcorubio) July 13, 2018
While Putin may have developed a preference for Trump that wasn't his primary objective & that isn't why he won. His goal was to exacerbate our political divisions & get us to fight each other even more. Something we already do a pretty good job of ourselves without his help 2/4

— Marco Rubio (@marcorubio) July 13, 2018
Second,the most influential yet unwitting collaborators of the Putin effort was the media which extensively covered every salicious detail of the leaks, but spent little time looking into who was behind the hacking & their motivation. 3/4

— Marco Rubio (@marcorubio) July 13, 2018
3rd, #Putin will do this again & it will be even more difficult to stop. Changing voter registration data,strategically timed deep fakes, targeting congressional enemies & races with outsized national influence, these are just some of the things we could see in 2018 or 2020. 4/4

— Marco Rubio (@marcorubio) July 13, 2018
[image via screengrab]
Have a tip we should know? tips@mediaite.com