White House News Photographers Rip Sarah Sanders Over Acosta Video: 'Manipulating Images is Manipulating Truth'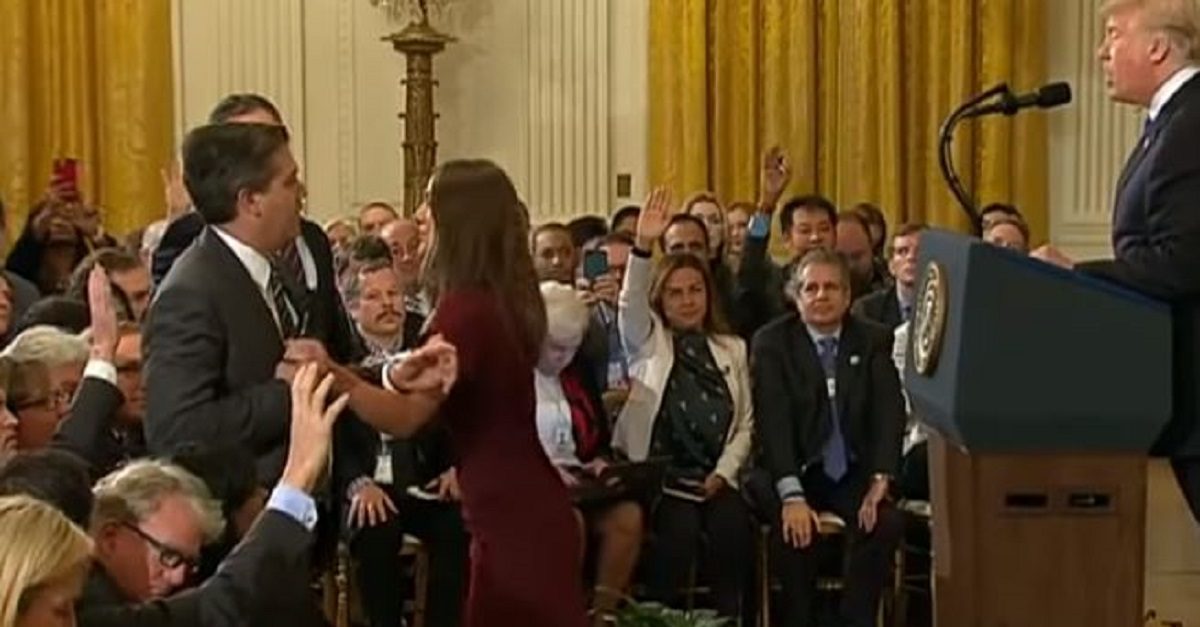 The White House News Photographers Association has issued a scathing statement slamming Press Secretary Sarah Sanders for releasing an apparently doctored photo as evidence that CNN's Jim Acosta put his hands on a young female staffer during a press conference.
Just hours after he faced off with Trump in the televised press conference,  Acosta had his hard pass yanked over what Sanders alleged was "inappropriate behavior" when an intern approached him and tried to take back the mic.
She also shared a video as "clearly documented" proof.
For the record, Acosta has denied that he did anything wrong and claimed the White House was trying to "send a message" with his ouster. He also has the backing of both CNN and fellow White House reporters.
And now, it seems the video the White House is holding out as proof of Acosta's actions may not be clear proof at all.
As internet sleuths quickly pointed out, the video at best was edited from a high-quality broadcast video with nearly 30 frames per second to one that is compressed into a Twitter shareworthy GIF, which has a substantially more choppy 10 frames per second. At worst, it may have been intentionally doctored.
In any case, the video originated from an InfoWars editor, and was then picked up by the White House press office and tweeted out.
For the White House News Photographers, Sanders' tweeting out such an unreliable video that was manipulated was simply appalling.
"The White House News Photographers Association is appalled to learn that the White House spokesperson may have shared a manipulated video of CNN reporter Jim Acosta's interaction with a White House intern during a news conference," the group wrote on Facebook on Thursday.
They added: "As visual journalists, we know that manipulating images is manipulating truth. It's deceptive, dangerous and unethical. Knowingly sharing manipulated images is equally problematic, particularly when the person sharing them is a representative of our country's highest office with vast influence over public opinion."
The White House is standing by their claims, with White House deputy spox Hogan Gidley issuing a statement downplaying talk about the speed of the video.
[image via screengrab]
Have a tip we should know? tips@mediaite.com