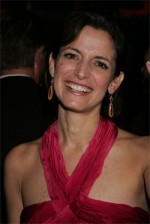 Cindi Leive is the editor-in-chief of Glamour, Conde Nast's 2.35-million circ juggernaut with a balance sheet as healthy as a cover girl's flowing mane. Under Leive, the magazine has enjoyed tremendous success and critical acclaim, racking up over 170 journalism awards, including numerous "General Excellence" nominations at the National Magazine Awards (it won in 2005, rare for a women's magazine in this appallingly patriarchal society. Oops, how did that get in there?). She is the past president of ASME, and an always-champion of women, as evidenced by Glamour's support of charities like the Somaly Mam foundation and, more generally, the Glamour Women of the Year Awards which honor incredible women – with incredible stories – every year. Those stories are often found in the pages of Glamour – as reliably as fashion, beauty and sex advice – and push the ball forward on matters of women's health, global trafficking and violence, and politics (example: the great Glamocracy blog during the campaign). Mock Glamour at your peril: MarketWatch's Jon Friedman did, and got clocked with what he called "The Glamour Hammer"; Fareed Zakaria did, and got showed up by Glamour's correspondent who went on to put the screws to Hamid Karzai on women's rights in Afghanistan. We grill her with just as much intensity here in this edition of 5QQ – Five Quick Questions.
1. How do you get your first news of the day?
NYT online, along with blogs, WSJ, Facebook/Twitter. Then Times and NY Post in print on the way to work. The Today Show on in the background if I'm in the office. (But never at home…too much chaos.)
2. Either, Or (you gotta pick one!):
iPhone or Blackberry?
Iphone! Completely addicted.
Dateline or Nightline?
Dateline. Or maybe the High Line!
Do's or Don'ts?
Don'ts, because we've all been there.
3. What's the biggest story the media has missed this year? (Or last week):
When psychos pick up guns (as in the Pennsylvania gym rampage just recently or the Wesleyan shooting this spring), why are they so often targeting women? Bob Herbert wrote a great column about this, but he's been pretty alone.
4. Obligatory Twitter Question: Describe yourself in 140 characters or less (hash tag optional!)
Glass-half-full type. Adore magazines, shoes, good storytelling, my family most of all. Pronounce like, "Drove my Chevy to the…"
5. Are you nervous or excited about the future of Journalism? Why?
More excited than nervous, because I think the openness and opportunity outweigh even the most serious problems posed by the death of how things were.
Read more about Leive at her new Glamour blog, "On The CL," here, the official Conde version here, and check out her ranking on the Power Grid here.  A good time for disclosure: Mediaite managing editor Colby Halls's wife, Geraldine Hessler, is the Design Director at Glamour; and I got my own start in magazines in the pages of Glamour, wearing a very fashionable garment.
Photo via Jezebel.
Have a tip we should know? tips@mediaite.com