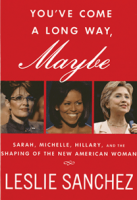 You may recognize Leslie Sanchez from CNN, since she was one of their A-team pundits during last-years long, crazy march to election day. Like the rest of us, she saw how the campaign of Hillary Clinton unfolded, how Michelle Obama was perceived and characterized, and the wrench thrown into the works late last August that was Sarah Palin — and, like with the rest of us, tried to wrap her head around it all. It was a lot — especially when that "rest of us" was women, trying to puzzle out our feelings on Palin and how she turned around notions of power, motherhood, political-sexiness, media engagement, and — yes — fitness for office. As a woman and a Republican (and a Hispanic, and a CEO — check those boxes!) Sanchez found herself intrigued by how the 2008 drama had played out for these particular women, and what that said about women in this country overall, right now, going forward. The result was her new book, You've Come a Long Way, Maybe: Sarah, Michelle, Hillary and the Shaping of the New American Woman. As well, Leslie was also the director of the White House Initiative on Hispanic Education from 2001 to 2003 and is CEO of the Impacto Group, which specializes in market research about women and Hispanics; she is also a friend of mine, and — spoiler alert! — I am quoted in the book (and on the back flap, along with Newt Gingrich. I have arrived!). She has shared an excerpt with us today, and also — in honor of Sarah Palin's return to the headlines! — has agreed to burn a bra or two with us for today's installment of 5QQ – Five Quick Questions.
1. How do you get your first news of the day?
Cyber meld? Aside from deluge of RSS feeds, I check Twitter, Real Clear Politics, CNN, Drudge Report, Nat Review, WSJ and other political blog sites.

2. Either, Or (you gotta pick one!):
Sarah Palin or Hillary Clinton or Michele Obama?
(Related: Rock, Paper or Scissors?)
Hilary scissors, Palin paper, Michelle rock
CNN Silver Foxes: Wolf or Anderson?
You didn't add Lou Dobbs? Oh, wait…
…add John King and you have CNN's "Men of a Certain Age!"

John Boehner's Tan, John Shadegg's Baby or Stupak's Amendment?
Boehner's Tan. His faux glow is his…choice.
The Taylor Swift Conundrum: High Heels or Sneakers?
Why not both?
3. What's the biggest story the media has missed this year? (Or last week):
"Nearly half the members of a House panel in control of Pentagon spending are facing a probe by Congressional ethics investigators…"
(read more here)

4. Obligatory Twitter Question: Describe yourself in 140 characters or less (hash tag optional!)
Political pontificator poised 2 pounce on pathetic politicians preying on pple- & hopefully i'm pretty ;) #TwitterAddict #AuthorPunditGOPGal

5. Are you nervous or excited about the future of journalism? Why?
Both. The question is will journalism tame the technology, or will the technology tame the journalist?
Bonus question: Whose blurb on the back of your book will sell more copies, mine or Newt Gingrich's? And if it's Newt is that because publishing is sexist?
Your blurb, of course. I need good Canadian street cred!
>>>NEXT! Excerpt: You've Come A Long Way, Maybe by Leslie Sanchez
Have a tip we should know? tips@mediaite.com