61% of White House Correspondents Hate Press Briefing Format; And Other Fun Stats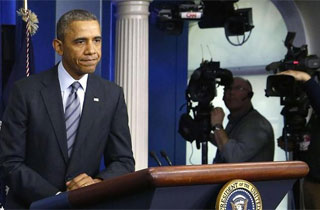 If you didn't quite understand the words from POLITICO's recent article depicting the White House press corps' dissatisfaction with Jay Carney and the Obama communications team, here's an easier way to understand it: numbers!
In a poll of sixty journalists released in its Media Issue, POLITICO found that 61% believed that the White House should change the format of press briefings. "More candor, less talking points," said one anonymous journalist. "No more serial interviews by the first row. Shorter."
Even the 23% of the respondents who liked the current form of press briefings admitted that it was more for the "theatrics" than it was for actually getting news. "We need some theatrics to measure the political climate," explained another.
Other fun statistics:
50% say that the White House has lied to them , while the other 50% say that they've never been lied to, making them either the White House's BFF or extremely naive
When asked how often they talk to Administration officials who don't work in a communications capacity, 53% responded with: "Are you kidding me?!"
The First Lady's Office is considered the least helpful to reporters
White House officials have cursed out 39% of very, very privileged reporters
50% of respondents have never had an exclusive interview with Barack Obama
Only 16% said that the White House was markedly improving photography access, while the rest responded with either "to some extent" (49%) or "no" (35%)
41% considered George W. Bush's administration "more forthcoming with information for reporters" than Obama's administration (5%).
If these numbers don't do it for you, POLITICO has a handy inforgraphic below. (Pictures!)
[POLITICO]
[Image via Jonathan Ernst/Reuters]
—
>> Follow Tina Nguyen (@Tina_Nguyen) on Twitter
Have a tip we should know? tips@mediaite.com