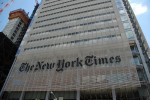 The New York Times Magazine this weekend features a profile about three generations of the comedic Elliott family. But one aspect of the writing of the story seems a bit funny:
Chris's father is Bob Elliott, one half of the legendary radio comedy team Bob and Ray. Bob's wife's first husband was Raymond Knight, a radio comedian of the 1930s who was born in 1899, which means that Abby Elliott is heir to, as Wikipedia points out, "a comedic lineage that spans across three centuries."
Before you rail on the Times for hypocrisy or a loosening of its editorial standards, take a look at the chronology that got us here. This isn't actually the first time the Times has cited Wikipedia as a source. Paul Krugman referred to the site as a resource for a 2006 column. Yet no news story, to my knowledge, has included Wikipedia in its reporting.
That doesn't mean the writing wasn't on the wall. A 2007 Times story documents how often judges turn to the "collaborative online encyclopedia" as a source in their decisions:
"Wikipedia is a terrific resource," said Judge Richard A. Posner of the United States Court of Appeals for the Seventh Circuit, in Chicago. "Partly because it so convenient, it often has been updated recently and is very accurate." But, he added: "It wouldn't be right to use it in a critical issue. If the safety of a product is at issue, you wouldn't look it up in Wikipedia."
That was clearly not done here — indeed, the fact cited is just that, a fact, independently verifiable (and presumably independently verified). But beyond that, per Posner, it's not surprising to discover that Times reporters might rely on Wikipedia for research for their articles. In fact, if a reporter were to discount the site in the name of journalistic integrity he or she could face scrutiny for overlooking potential information or leads. For an article about the Elliott family of comedians, writer Ed Zuckerman couldn't possibly have imagined a better Web site to learn the basics about his subjects than Wikipedia.
Here's the difficulty that arises, though: Often the site will provide the most succinct and digestible way to describe the topic at hand. That seems to be the case for Zuckerman when he cited something as innocent as "a comedic lineage that spans across three centuries." Is an attempt to put that sentiment in alternative terms worth the risk of sounding lengthy, clunky or confusing?
Rather than just borrow Wikipedia's language – or try to package the message some other way – Zuckerman makes the right choice in citing it to the page where he found it. Unless there's a NYT policy against this specific practice (which there doesn't seem to be), Zuckerman acted ethically and responsibly. If there needs to be a larger and longer discussion about whether the Times should permit its writers to use Wikipedia at all, that has no bearing on how Zuckerman covered this particular piece.
What's complicated about Zuckerman's decision, however, is the fact that you can track down the user who made this change on Raymond Knight's page. A click of the "history" button reveals his user name as "Woohookitty" and the date (January 2, 2009) he edited it. His profile page says that he's the eighth-best Wikipedia user in the system, according to number of edits to the overall site. He also appears to take this work seriously, saying:
"My main goal on Wikipedia is to make it as clean and concise as possible. I've created a few pages, but for the most part, I do a lot of copyediting and cleanup work."
While there's no other identity attached to Woohookitty's profile, this should be enough to warrant recognition for his contribution to Zuckerman's research. He sounds as credible as you could wish under the circumstances. If citing Wikipedia as a source becomes standard procedure, we should go to the effort of crediting those who wrote the material being quoted. Reliability aside, attributing something to Wikipedia is akin to citing a forum, message board, or other online discussion. There's a person behind the post, edit, or suggestion who deserves the pat on the back, not the site that made it possible.
When the New York Times credits "Woohookitty" — well, that's when you'll know things have really changed.
Have a tip we should know? tips@mediaite.com