A-Paul-calypse Now: Ron Paul Trails Newt Gingrich By 1 Point In New Iowa Poll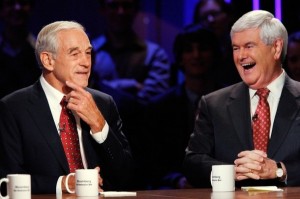 With scant weeks to go before the Iowa caucuses, perpetually ignored-by-the-media Republican presidential candidate Rep. Ron Paul is making a deadly serious run for the top spot in the first-in-the-nation GOP contest. A little over a week ago, Paul passed Mitt Romney for second place in the state, 7 points behind frontrunner Newt Gingrich. A new poll from Public Policy Polling, however, has the congressman trailing Gingrich by a single point, 22%-21%, with Romney holding onto third with 16%.


While the media has already decided that this is now a two-man race between Gingrich and perpetual poll runner-up Mitt Romney, Ron Paul has emerged as a very real threat in Iowa, and from there, who knows? From PPP:
There has been some major movement in the Republican Presidential race in Iowa over the last week, with what was a 9 point lead for Newt Gingrich now all the way down to a single point. Gingrich is at 22% to 21% for Paul with Mitt Romney at 16%, Michele Bachmann at 11%, Rick Perry at 9%, Rick Santorum at 8%, Jon Huntsman at 5%, and Gary Johnson at 1%.

…Gingrich has dropped 5 points in the last week and he's also seen a significant decline in his favorability numbers. Last week he was at +31 (62/31) and he's now dropped 19 points to +12 (52/40). The attacks on him appear to be taking a heavy toll- his support with Tea Party voters has declined from 35% to 24%.
Paul is also within 8 points of the lead in one New Hampshire poll, just 3 points behind Gingrich.
Gingrich has faced brutal attacks on the issues from Paul that left many observers gasping, plus a vicious ad by a WorldNetDaily contributor that was aimed at social conservatives in Iowa, but which was played and re-played nationally by cable news outlets.
Unlike Gingrich, Ron Paul has the fundraising and organizational apparatus to take him beyond wins in early states, so a victory in Iowa could very well propel him to a brokered convention, or more. Disaffection with Gingrich and Romney has already led conservative pundit Joe Scarborough to say he would consider voting for Paul as an independent. Whether or not Ron Paul is taken seriously has always hinged on the whims of the mainstream media, but results like these make it increasingly difficult to ignore him.
Have a tip we should know? tips@mediaite.com