ABC News' Ashleigh Banfield Calls Sex Attacks On Female Journalists "Secret Job Hazard"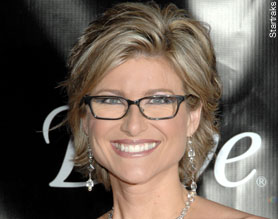 The violent sexual assault CBS correspondent Lara Logan sustained while covering celebrations in Cairo's Tahrir Square led many to wonder about the safety of journalists – particularly female reporters – as they cover tense situations in foreign countries.
ABC News correspondent Ashleigh Banfield addresses those concerns head-on in a column she penned for The New York Post, telling concerned readers that sexual violence against female reporters is a "sad little secret"… that may not be so secret after all. Writes Banfield:
There's a good chance we will be groped, pinched, slapped and/or experience severe molestation in a discreetly sinister way.

It's unpleasant . . . it's humiliating . . . and sometimes a painful nuisance — but it's not something that's likely to change anytime soon. And it's something many of my female colleagues simply endure in order to carry on doing the job they love.
Some, such as Michelle Malkin, who appeared on Sean Hannity's Fox News show last night to discuss Logan's attack, have attempted to tie the assault to "radical Islam," or to a specific cultural or religions mindset. Banfield does not hesitate to address the question of whether culture or religion might have a role in why these attacks on female journalists happen, drawing on a personal experience covering a rally in Pakistan:
It was at that very rally in Islamabad, after being pelted with fruit and small stones, that I experienced that of which my colleague was warning me — an extraordinarily personal grope that can't be described on these pages.

Without question, it enlightened me as to the lengths some Muslim men, in some very strict societies, would go to defy their God for a fleeting thrill.

It also left me extremely uncomfortable covering crowded marches and demonstrations in Islamic nations.

Don't get me wrong, there are bad apples in every barrel, and I would like to think that the majority of men who congregate in these democratic assemblies in search of freedom adhere to the tenets of their faith.
Sidestepping, for a moment, why it is that such attacks happen, the question – and one Banfield doesn't answer in her article – remains of what must be done or changed by networks so that female journalists may do their jobs without having to silently "just take" abuse or harassment. If a supposedly prevalent and ingrained negative attitude (abroad or otherwise) is firmly set in place and isn't set to change any time soon, what can journalists and their employers do to protect themselves and one another?
h/t New York Post
Have a tip we should know? tips@mediaite.com