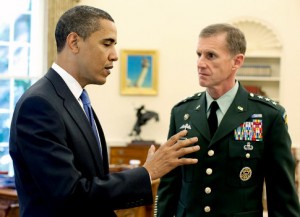 It's official: exit General Stanley McChrystal. Enter stage right General David Petraeus. Following the controversial Rolling Stone article, President Obama announced this afternoon that he has regrettably accepted McChrystal's resignation. While many said the General's insubordination was unacceptable, Afghan leaders had warned against changing military leadership in Afghanistan.
Officials had told Obama that firing McChrystal would "disrupt progress in the war and could jeopardize a pivotal security operation under way in Taliban strongholds in the south."
Afghan President Hamid Karzai's spokesman Waheed Omar said the situation in Afghanistan is very sensitive:
"The president believes that we are in a very sensitive juncture in the partnership, in the war on terror and in the process of bringing peace and stability to Afghanistan, and any gap in this process will not be helpful," Omar told reporters.

"We hope there is not a change of leadership of the international forces here in Afghanistan and that we continue to partner with Gen. McChrystal."
Ahmad Wali Karzai, the president's half brother and head of the Kandahar provincial council, said there is a strong sense of trust between McChrystal and the people:
"If he is fired, it will disrupt the operation," Ahmad Wali Karzai said. "It definitely will affect it. He (McChrystal) started all this, and he has a good relationship with the people. The people trust him and we trust him. If we lose this important person, I don't think that this operation will work in a positive way."
Despite these sentiments, we now know for sure that McChrystal's leadership has been replaced. Several media outlets have responded positively to Obama's decision. The Daily Telegraph said it "shows Obama is boss," while the Chicago Tribune said the decision was necessary "to avoid setting a dangerous precedent."
Afghan leaders are likely not as pleased, but have yet to respond. But when a response does come, it's probably safe to say it will be quite a contrast from the general reaction at home.
Have a tip we should know? tips@mediaite.com