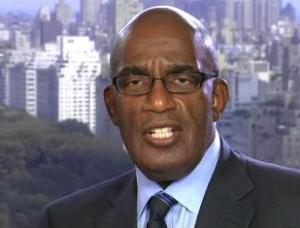 As if Today show weather anchor Al Roker doesn't have enough jobs already, he's adding a new title to his resume – murder mystery author.
And his first release, The Morning Show Murders, takes place at a morning show and involves the murder of the show's executive producer. How does that make you feel, Today show EP Jim Bell?
USA Today talked to Roker and others at the Today show about the new book.
"I work with these people," Roker said. "I don't want to violate their trust. In real life I would never kill my executive producer. He does a great job. I need him."
So – Jim Bell? "It's sadly very telling," he joked. "They're your best friends, and then they go to a fictional side and it's obvious they want to kill me. It's so obvious."
The book's protagonist is "Chef" Billy Blessing, who is loosely based on Roker. Blessing is accused of the murder in the book. From the Amazon.com page, Roker has a video describing his book. "It's international intrigue, there's some romance, and there's some fabulous recipes," said Roker. Also: "I have never killed my executive producer. There have been a couple I've wanted to kill…"
This is the first in a series of murder mysteries coming from Roker, including his second in the series out in Fall of next year. All will take place at a morning show. Some previous books from Roker have related to family and cooking. Of course, Roker's several day jobs continue, with his work on the Today show, his new show on The Weather Channel, producing programs for MSNBC and other channels and a Food Network show.
But back to this murder mystery at a Today show-like locale. "Al is clearly way into this murder thing," Matt Lauer told USA Today. "We all felt for a long, long time that if Willard (Scott) ever turned up dead, it would have been Al who killed him."
Have a tip we should know? tips@mediaite.com