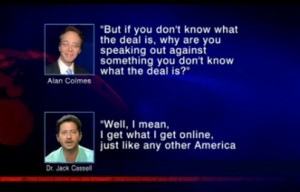 While he was half of the duo Hannity and Colmes, Alan Colmes was the subject of derision from the left. Monday morning quarterbacking Colmes' responses to Sean Hannity's guests was a favorite pastime, and current liberal hero Senator Al Franken (D-MN) mocked him mercilessly in his book. I bet they all miss Alan now.
On last night's Daily Show, Jon Stewart played a clip of Florida urologist Jack Cassell on Fox News, vomiting misinformation about health care reform unchallenged. He then played a clip of Colmes, the guy whose job that used to be, completely decimating the guy in a radio interview.
In his well-researched 2003 book Lies (and the Lying Liars Who Tell Them), Franken mocked Colmes for failing to point things out during H&C segments, and reduced his name to the lower-cased "colmes" in transcripts. For some reason, this made me want to check out Colmes' book, Red, White, and Liberal, I guess to see what an awful hack the guy must be.
I was surprised to find out that Colmes is a really good liberal and a very sharp, thoughtful guy. Since then, I've learned that people outside the news media often have trouble understanding certain parts of the job. They expect journalists and talking heads to treat every exchange as if it's a prize fight. Sometimes, that's necessary, but in the long view, nobody will ever talk to you if you constantly interrupt, or talk about bloody diapers, or call people names. Even Franken had to pull punches on his radio show, for example, or he'd never have been able to book any guests.
Also, with the pressure on and the cameras rolling, it can be tough to access every point in an argument every time. This is true even in a neutral setting like the White House briefing room. It's magnified when you're one blue speck in a studio swimming with red.
But let's face it, Colmes' true crime was that he didn't personalize it– he didn't sneer at Hannity and call him "dumbass" every five minutes– because that's what you would do, right? I can relate. Many on the left deplore the fact that I get along with conservatives, even though it affords me, and them, a unique ability to see behind the scenes. If you go around looking for a fight, you might find one, but that's all you'll find.
So, now, while Colmes is still a Fox News contributor, he doesn't have the platform he did before, and he's not there as often to stem the tide of bullshit from people like Cassell. If the left doesn't miss him, they should.
Have a tip we should know? tips@mediaite.com