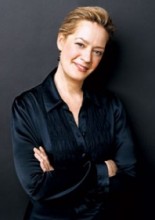 Alessandra Stanley just can't catch a break. First Katie Couric hung her out to dry last week on the Evening News for her error riddled Walter Cronkite piece, which ran on the homepage of the NYT.com hours after his death. And now, two weeks after the fact, New York Times public editor Clark Hoyt is having a go at her — and her editors — and he's not mincing words.
The Times published an especially embarrassing correction on July 22, fixing seven errors in a single article — an appraisal of Walter Cronkite, the CBS anchorman famed for his meticulous reporting. The newspaper had wrong dates for historic events; gave incorrect information about Cronkite's work, his colleagues and his program's ratings; misstated the name of a news agency, and misspelled the name of a satellite.
How did this happen? Hoyt responds, and his "short answer" implicates just about everyone.
The short answer is that a television critic with a history of errors wrote hastily and failed to double-check her work, and editors who should have been vigilant were not. But a more nuanced answer is that even a newspaper like The Times, with layers of editing to ensure accuracy, can go off the rails when communication is poor, individuals do not bear down hard enough, and they make assumptions about what others have done. Five editors read the article at different times, but none subjected it to rigorous fact-checking, even after catching two other errors in it. And three editors combined to cause one of the errors themselves.
Ouch. Interestingly, Hoyts seems to suggest that Stanley's "hastily" written piece may have suffered from having too long a deadline, as opposed to too short a one. The article, it turns out, was penned on June 19, almost a full month ahead of Cronkite's death on July 17.
On June 19, Alessandra Stanley, a prolific writer much admired by editors for the intellectual heft of her coverage of television, wrote a sum-up of the Cronkite career, to be published after his death.

Stanley said she was writing another article on deadline at the same time and hurriedly produced the appraisal, sending it to her editor with the intention of fact-checking it later. She never did.
And neither did any of the numerous editors who looked at it it would seem! Also interesting to note is that Hoyt refers to Stanley as a "much-admired" writer. Of course one assumes she must be admired if the Times insists on keeping her on despite her record of errors — errors, which Hoyt says "undermine the authority of a newspaper." It's a record that the Times appears to have chosen to ignore in the past: in March of 2008 in a 'Talk to the Newsroom' feature, TV editor Stephen Reddicliffe did not address one question regarding Stanley's history of errors. That said, not only are they keeping her on, they are (arguably) rewarding her by reinstating her personal copy editor whose sole responsibility will be to fact and copy check all of her articles (a reader points out the copy editor will likely have other responsibilities in addition to editing Stanley). Embarrassing yes, but also wow, what a luxury!
Worth a read, too, is Hoyt's play-by-play of how the article made it to publication: he notes that it passed through the hands of five editors and demonstrates how each one dropped the ball in some way. This process could not be more at odds with the blogosphere where there is often little or no editorial filter; instead items are quickly corrected as their errors are (often quickly and ruthlessly!) brought to light by the reader. In this particular case the Times looks to have suffered from too many cooks in the kitchen. Something they are apparently aiming to address by adding another editor to the obituary department. Perhaps they should just wikipedia out their entire obituary department and be done with it.
Have a tip we should know? tips@mediaite.com