An Elephantine Eulogy: NY Daily News Declares Death of 'Once-Great' GOP After Trump Win
New York's hometown newspaper is in mourning.
Well, at least that's the message with its latest snarky cover story for the Wednesday morning edition, which declares that the Republican party met its demise on Tuesday night with another Donald Trump win, this time in Indiana. With 589,416 raw votes to his name, the New York-born real estate mogul claimed victory in the Hoosier state, forcing Texas Senator Ted Cruz out of the race and making Trump the presumptive nominee.
And with that, the Grand Old Party is no more, according to the tabloid: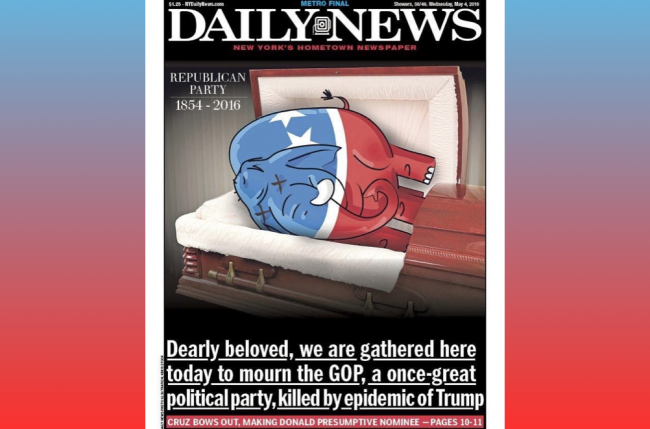 The cover features a deceased elephant in his casket, with text that reads, "Dearly beloved, we are gathered here today to mourn the GOP, a once-great political party, killed by epidemic of Trump."
This is just the latest example of the Daily News using its creative covers to convey a political message. Last month in the lead-up to the New York primary — which many will look back on as the nail in the proverbial campaign coffin for Ted Cruz — the paper dragged the Texas Senator through the mud by telling him to take the F-U Train to get 'outta the Bronx. Previously, during the New York value flap, the paper unceremoniously told Cruz to "Drop Dead," but its best work is hardly relegated to Cruz. This last year the tabloid has taken aim at Trump numerous times, once casually referring to the Republican frontrunner as "Dead clown walking."
—
J.D. Durkin (@jiveDurkey) is an editorial producer and columnist at Mediaite.
[image via New York Daily News]
Have a tip we should know? tips@mediaite.com