Andrea Mitchell is Way Too Serious About Ted Cruz Refusing to Wear Cheese Head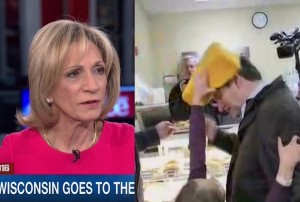 To brie, or not to brie? That was the question for Texas Senator and Republican presidential hopeful Ted Cruz on Monday, and depending on who you're listening to, he either avoided political disaster or exposed himself as an enemy of children when he refused to don the Wisconsin "cheese-head" chapeau that was offered to him by his daughter. On Tuesday's Morning Joe, however, MSNBC's Andrea Mitchell analyzed the moment with a straighter face than necessary.
The setup for the "cheese-head moment," in which Cruz rebuffs his daughter's offering of a cheese-head and explains to reporters that funny hats are political death, was somewhat tongue-in-cheek, but Mitchell's assessment of the moment was deadly serious. She seemed put off by Cruz's snub of his daughter, but then recalled Michael Dukakis' infamous tank helmet moment:
Before he (Dukakis) went to the General Dynamics plant, he had given a major speech on foreign policy that we were all covering. And then he put the helmet on. And that was the end of the campaign. Lee Atwater looked at that and said, "We got him."
I honestly can't tell if Andrea Mitchell is messing with us here, at least about Ted Cruz, but she's dead serious that the tank thing singlehandedly did Dukakis in, which is part of the rich tradition of crummy, optics-driven political journalism to which we've become all too accustomed. Dukakis had lots of other problems, and even lots of other worse moments (the "Kitty Dukakis moment," for one), but this is how our mainstream media thinks about politics, and their place in it.
This is an opinion piece. The views expressed in this article are those of just the author.