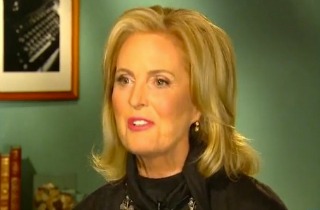 Ann Romney, wife to former Republican presidential candidate Mitt Romney, is heading up a new health care initiative in Boston aimed at fostering new research to cure neurological diseases, according to the Associated Press.
The AP report says the venture will be funded by both Ann and Mitt for Boston's Brigham and Women's Hospital to create the Ann Romney Center for Neurological diseases.

Included in the report, though, is what might seem like an ominous quote from Ann:
"I'm running out of time," Ann Romney said in an interview. "I just want to accelerate what's happening."
It is well-known that Ann was diagnosed with multiple sclerosis in 1998, though treatment for her condition has been relatively successful. The disease is rarely fatal, according to the National MS Society.
Morbid as the quote may seem, the AP reports that Ann says she has "never felt better."
Then what did she mean about "running out of time"?
Mediaite reached out to Steve Peoples, who wrote the AP report. "She meant that she was getting older," he said, emphasizing that Ann has said she feels in good health but is 65.
So, we're happy to report that Ann was not anticipating death. We can breath easy for her.
In other happier news, Mitt wrote an open letter on Medium.com celebrating her new health research project. "From one of the wounded, you have become one of the warriors," he wrote. "I could not be more proud of the 15 year old girl I fell in love with almost 50 years ago."
[Photo via Fox News/screen grab]
— —
>> Follow Eddie Scarry (@eScarry) on Twitter
Have a tip we should know? tips@mediaite.com