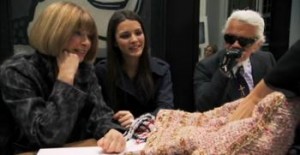 "One day you turn around, and it's summer / Next day you turn around, and it's fall / And suddenly, all the springs and winters of a lifetime / Whatever happened to them all?"
— Frank Sinatra, "September of My Years"
Who isn't weirdly fascinated by Anna Wintour? Even if you don't at all care for fashion, the noted tastemaker (and rumored control freak) inspires endless envy and contempt for her unshakable self-confidence and her ballin' wardrobe. Trash-talking her in The Devil Wears Prada was Lauren Weisberger's meal ticket, magazines like Time love to flamewar her wardrobe for attention, and there is even a character on Ugly Betty who is a thinly-veiled parody of her, or so I have been told by my esteemed colleague Wikipedia.
You'd think, then, that the unprecedented access R.J. Cutler got to Wintour in The September Issue would be the documentary's main draw. Sadly, it's not. Instead the volatile state of the magazine industry has made The September Issue a period piece before it's even been released.
A little background: For the first time ever, Anna Wintour let a camera crew follow her around as she plotted Vogue's September 2007 issue, which was the longest, heaviest single issue of a magazine ever published. The film gets a lot of mileage out this access: the official trailer, below, is all about the delightful spectacle that is Anna Wintour. Raptly listen as lots of people say how influential she is! Marvel as she is bossier than you would expect a person to be! Cheer as some designer says "Anna Wintour is like Madonna!"
All of this sort of mythologizing seems a little bit silly in light of the alarming downward spiral that's sucked in Vogue and its ilk since 2007. Designer clothes apparently aren't as recession-proof as everyone said they would be last year. In this year's September issue, ad revenue is down 37 percent. People just aren't buying $10,000 t-shirts like they used to, it seems. And the overall decline of magazines means that even when the economy picks up, they'll never again reach their old heights.
All of which makes The September Issue more relevant than it might have been otherwise. Odds are, there will never be another Anna Wintour, which says less about them not making elegant micromanagers like they used to and more about the fact that in the near-future, magazine editors just aren't going to be as relevant, and certainly aren't going to command $2 million a year.
I haven't seen the whole movie, so I don't know how good it is. But even if it isn't very good, journalism and fashion studies students may watch it further down the road as a sort of time capsule. For now, it will give people the rarest of thrills: thinking they're better than Anna Wintour, and feeling sorry for Vogue.
Have a tip we should know? tips@mediaite.com