Are Piers Morgan's Visa Issues Postponing The End Of Larry King Live? Probably Not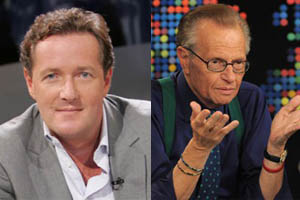 CNN staple Larry King decided to hang up the suspenders earlier this summer and vacate the network's 9PM spot, with new host Piers Morgan to replace him in the fall. The New York Post is reporting that, due to "visa issues" (Morgan is a UK citizen), King will stay until the end of the year and "jumped at the chance" to. Except, outside of the Post's "exclusive" "sources," there seems to be no evidence for this.
The Post story, billed as an exclusive, claims that Morgan had only been receiving summer work visas for America's Got Talent, and that the full-year visa he would need to work on CNN was proving troublesome:
CNN is asking Larry King to postpone his final show — slated for fall — and stick around until the end of the year, The Post has learned.

British journalist and "America's Got Talent" judge Piers Morgan, who is widely thought to be King's replacement, is apparently having trouble obtaining a work visa, according to several sources. It is uncertain how serious the glitch is — but it has apparently held up the long-awaited deal to put Morgan in King's chair by late October or early November. […]

As a British citizen, Morgan needs a special visa that will allow him to work full-time in the US — and those types of visas are increasingly difficult to get, according to lawyers who specialize in the field.
The Post also notes that a CNN spokesman "declined to comment" and because "no date has been announced yet, there's nothing specific at this point."
It's interesting to note that the most concrete sources in the article who are cited with a title other than "sources" are the CNN spokesperson denying the story and "lawyers who specialize in the field" (of immigration law, we assume). The juiciest bit of the piece is the claim that King "jumped at the chance" to stay for longer, implying that he's not quite ready to leave or that, perhaps, there is conflict between the host and his heir– none of which seems to have any basis in any previously confirmed information. In fact, it sounds like King and Morgan are going to get along great, and King is excited about spending more time with his children.
Sources within CNN tell Mediaite that King exit in the fall is still on schedule. Plus, it's not like CNN doesn't have cameras in London.
Have a tip we should know? tips@mediaite.com