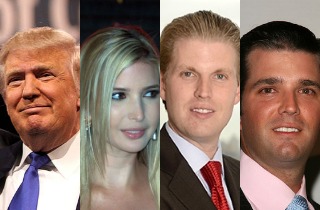 It if feels like most of 2015 has been spent spinning the name "Trump" around, you're exactly right. In fact since July 10 when the very first polling data came out revealing Donald Trump as top dog, he has never relinquished the lead. Not once.
The idea of a political surrogate puts emphasis on a family member of a candidate to step into the public eye as a means of swaying additional voters. The practice is hardly a new one; Eleanor Roosevelt was vital to accruing the women's vote for her husband in a very public way. Undoubtedly, we've already seen establishment darlings Hillary Clinton and Jeb Bush roll out their Presidential kin to fan flames of their own ambitions.
But make no mistake. With surrogate season heating up and the focus shifting from the hopefuls onto their family members, there is no candidate poised for success quite like Donald Trump.
For most candidates in Presidential history, behind every great man has been a great woman; this time around, there are also three great kids. And as several media outlets are broadcasting and writing about this week, the trio of Ivanka, Eric, and Donald Jr. are prepared to legitimize their father's candidacy even more.
Trump has a large family; while he is also father to two additional children (Tiffany and Barron) it is clear that the eldest three have the polished chops to further their father's ambitions. Just this week, the Trump campaign rolled out Ivanka for a sit-down with CNN's Poppy Harlow, articulating how "incredible for women in this country" her father would be. She continued:
"I'll leave policy to him. But I can speak from my vantage point as a child and my vantage point as a colleague, as somebody who works for him. He's been an amazing parent… he's been loving, supportive, he's pushed me, he's corrected me, he's disciplined me."
As the crew behind Morning Joe continued their Trump-Is-The-Real-Deal storyline on the program Thursday morning, the shift of focus turned towards Ivanka. They noted that aside from the sharp business chops that the 33-year-old has in spades, she is due to have her third child right around the time of the Iowa caucus. In the world of political surrogacy, it is tough to beat the visual of Ivanka Trump and her three children, campaigning on behalf of her father's favorable view of women, articulating the Trump brand through an almost anti-Trumpian scope of docility.
The values most often associated with Ivanka, Eric, and Donald Jr. are far from those typically heaved onto the patriarch himself. If there is any legitimate fear behind the assertion that Millenials are lacking in character, voters will assuredly take refuge in the Trump lineage. During an interview with Greta Van Susteren this week, Eric Trump revealed a different side of The Donald, which is the exact missing piece the surging frontrunner most needs. Eric Trump noted:
"Listen, he never let us get out of line. He made us work, he instilled some really great values in us, and we were the last family who was ever going to be caught dancing on a table in a nightclub. It just wasn't us. At a young age we were put on construction sites, we worked, we worked very hard, we were expected to get great grades, we were expected to perform… he held us to a high standard, and we never let him down."
In this microcosm role of seven minute surrogate, Eric Trump hits at all the right points to increase his father's viability for President. Union workers with blue collars, CEOs in stripes, and every American in-between can be won over with these talking points. And here's the thing: it's no act. These kids are bred with every great American value imaginable.
The business-centric rhetoric from Eric is hardly different from his father's ("we're building the greatest hotels and we're having a blast doing it," he opines to Van Susteren), but his delivery is the key to the inevitable Trump surrogacy surge: a faint trace of humility. TIME wrote earlier this year, "They lack his hunger for publicity for its own sake and his flair for the outrageous." 
Donald Jr., who continues to manage Trump property portfolios, once said, "We were spoiled in many ways, but we were always taught to understand the value of the dollar. If there was something we wanted, we had to earn it."
For being a political outsider in this year's race, Trump has a family story with its fair share of tragedy like many of the great dynastic families in history. In 1981, Trump's brother Fred Trump died of alcoholism, and has said of the tragedy "It had a profound impact… He would tell me, 'Don't drink ever' … He understood the problem that he had and that it was a very hard problem." To this day, his children live by their father's teachings: no drugs, no cigarettes, no booze.
Regarding the dynamic between the three siblings themselves, Eric Trump notes, "We have an amazing recipe, we're best friends, we're kind of on this warpath together, and having a great time doing it."
There has long been conversation in the media that the Trump mania would die down any day now. But after 97 days sitting atop the GOP race for the nomination, it's beginning to become clear that this honeymoon phase may very well be transitioning to something more serious. The media is shifting its focus onto the other members of the Trump family cabinet; Fox's Steve Doocy noted this morning, "It's a salute to his parents that they would grow up like that." As each campaign strategizes how best to use tangential family members to aid in a candidate's chances, look for Trump to only continue his surge with three good examples of his principles standing by his side.
[images via shutterstock]
>> Follow J.D. Durkin on Twitter (@MediaiteJD)
Have a tip we should know? tips@mediaite.com