Atlantic Exposé Reveals Sarah Palin's Surprisingly Moderate Governing Record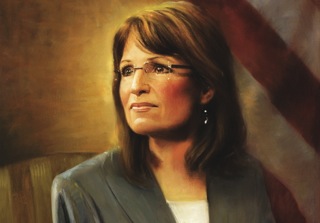 As the time for Sarah Palin to make a decision on a potential presidential campaign approaches, many are speculating that a general election run would require the brazen conservative to embrace the center in a way the national audience has yet to see. But those who doubt her talent for bipartisanship must know little about her career in Alaska, where Atlantic senior editor Joshua Green writes Palin made her name on the political corpses of corrupt Republicans and supported both gay rights and reproductive freedoms.
2011 national figure Palin may be an entity made up of "mama grizzlies," catchphrases and an inability to take any prisoners, and certainly even in Alaska today, Green writes that she is perceived as something of "an ex-spouse from a stormy marriage: she's a distant bad memory, and questions about her seem vaguely unwelcome." The piece, entitled "The Tragedy of Sarah Palin," notes that little of that seems to have to do with her governing record but, instead, with who she became after 2008. In fact, her record in Alaska, while cutthroat, demonstrated a strong bias against corruption, along no certain party line:
As governor, Palin demonstrated many of the qualities we expect in our best leaders. She set aside private concerns for the greater good, forgoing a focus on social issues to confront the great problem plaguing Alaska, its corrupt oil-and-gas politics. She did this in a way that seems wildly out of character today—by cooperating with Democrats and moderate Republicans to raise taxes on Big Business. And she succeeded to a remarkable extent in settling, at least for a time, what had seemed insoluble problems, in the process putting Alaska on a trajectory to financial well-being.
How did Palin do that, exactly? By taking on the Republican Party establishment, led by former governor Frank Murkowski, from her modest position as chair of the Alaska Oil and Gas Conservation Commission. Natural resources, it turns out, take up the majority of the political chatter in Alaska, and from Palin's position then, she managed to take down the head of the state Republican Party for colluding with energy companies against the interests of the people. This, Green writes, made her extremely popular among Democrats, and a parallel corruption scandal in the Murkowski administration guaranteed Palin the governorship of the state in "one of the worst defeats ever suffered by an incumbent governor anywhere." As governor, the typical attitude she faced was epitomized by one Republican House member, who told her, "I will stand in your way like the little man in Tiananmen Square to keep you from hurting the economy."
As governor, she raised taxes on oil companies, "declined to take up two abortion-restriction measures that she favored, and vetoed a bill banning benefits for same-sex partners of state workers." Her biggest achievement was a gigantic economic overhaul, created by fusing a Democratic legislative proposal with her own moderate Republican one. The result in 2011? "While other states reel under staggering deficits, budget cuts, and protests, Alaska has built up a $12 billion surplus, most of it attributable to Palin's tax."
Of course the Palin we know today is all about social issues, lower taxes, and smaller government, with little of the anti-corporatist left. But, then again, the Palin we know has never been scrutinized in her capacity as a public servant– only as a pundit. The discrepancy between her record and her image make it nearly impossible to predict what Palin would do in national office.
The title of Green's article says more about what he thinks about these developments than the entire piece itself, calling this transformation a "tragedy." But there is a great, risky potential advantage to what Palin has done to herself here. Should she run, she has put her absolute worst foot forward for the past two years, according to this article– meaning that any opposition research on her will reveal only policies and effective results that could bolster her campaign. This puts opponents in a precarious position– they now have to work to keep her good record under wraps, to lock the closet before those skeletons get out and actually make her look good. It's a dangerous reverse psychology, and likely not intentional, but it certainly adds to Palin's mystique as one of the more perplexing political presences in the modern landscape.
Have a tip we should know? tips@mediaite.com