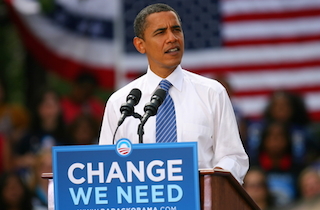 According to former Obama senior advisor David Axelrod's new book, President Barack Obama misled on his gay marriage position in the 2008 election, claiming to be against the change when he in fact fully favored it.
According to Believer: My Forty Years in Politics, Obama had long been in favor of same-sex marriage, but struggled to find a way to articulate the then-unpopular stance. In the 2008 race aides worried it would cost him key support in African-American communities.
"Opposition to gay marriage was particularly strong in the black church," Axelrod wrote, per a copy of the text obtained by TIME's Zeke Miller. "As he ran for higher office, he grudgingly accepted the counsel of more pragmatic folks like me, and modified his position to support civil unions rather than marriage, which he would term a 'sacred union.'"
Obama told pastor Rick Warren in 2008 that he believed marriage was between a man and woman, but according to Axelrod he was saying the opposite behind closed doors. "Having prided himself on forthrightness, though, Obama never felt comfortable with his compromise and, no doubt, compromised position," Axelrod wrote. "He routinely stumbled over the question when it came up in debates or interviews."
Obama became the first president to publicly declare support for same-sex marriages in 2012, after an interview with Vice President Joe Biden forced his hand. Axelrod said he had been "chomping at the bit" to do so for some time. Axelrod portrayed the decision to go public, which he said he supported, as something of a power battle within the campaign, claiming campaign manager Jim Messina worried it would cost them North Carolina.
Same-sex marriage has been steadily gaining in popularity since it was a decisive wedge issue in George W Bush 2004 win, and now enjoys majority support; meanwhile courts have been overturning gay marriage prohibitions left and right, and 37 states now allow the practice pending a Supreme Court decision later this spring.
[TIME]
[Image via Action Sports Photography / Shutterstock.com]
——
>> Follow Evan McMurry (@evanmcmurry) on Twitter
Have a tip we should know? tips@mediaite.com