Ben Carson's Unlikely Solution to Prevent More Fergusons: Government-Funded Child Care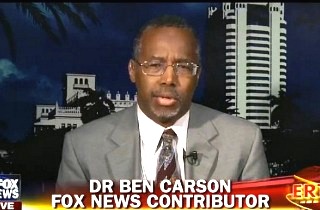 Conservative hero Dr. Ben Carson, who has said he's seriously considering a 2016 presidential bid, wrote in a column for the Washington Times Wednesday what his solution would be to prevent more incidents like the shooting of 18-year-old Michael Brown.
Brown, who was black and unarmed, was shot dead Aug. 9 by a white police officer, Darren Wilson.
"Why are there so many young black men in the streets of America with defiant attitudes that frequently lead to incarceration or death?" Carson said in his column, which was based on the disputed premise that Brown resisted instruction from Wilson before he was shot. "Could it be that a large number of them grow up without a father figure to teach them how to relate to authority and teach them the meaning of personal responsibility?"
It should be noted here that there has been no indication in media reports that Brown's father, Michael Brown Sr., was absent from Brown's life.
Regardless, Carson offered a policy proposal to prevent more Fergusons, emphasis added:
Once we get the most powerful economic engine the world has ever seen back on track with sensible economic policies, we should devote some of the tax revenues generated to child care facilities, which will allow many of those unwed mothers to get their General Education Development or higher degree and become self-supporting. There are also a number of programs across the nation that offer free classes that teach social and job skills, which will give many of the young men some different options. We must concentrate on these kinds of programs, because we cannot afford to lose large segments of our society to despair and underachievement in an increasingly competitive world.
Correction: The original version of this post incorrectly stated that Brown's parents are still married. They are divorced.
[Image via Fox News/screen grab]
— —
>> Follow Eddie Scarry (@eScarry) on Twitter
Have a tip we should know? tips@mediaite.com