Bernie Sanders Says WikiLeaks Would Find 'Less Than Flattering' Things About Clinton In His Emails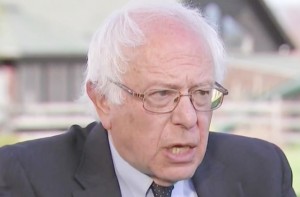 In an interview with the Washington Post, former Democratic presidential candidate Bernie Sanders came to the Clinton campaign's defense over some of the revelations in recent WikiLeaks email dumps from Hillary ally John Podesta.
Explaining that this is what you see in rival campaigns, the Vermont Senator noted that if WikiLeaks went rooting through his campaign's emails, they'd see some potentially rough stuff about Hillary Clinton.
During an interview here in his home town, Sanders seemed largely unfazed about what's been said, suggesting little of it has truly surprised him.

"Trust me, if they went into our emails — I suppose which may happen, who knows — I'm sure there would be statements that would be less than flattering about, you know, the Clinton staff," Sanders said. "That's what happens in campaigns."

He declined to offer examples.
While stating that the two campaigns were very different in terms of approach and strategy, he also threw a little shade at the DNC and Clinton, stating that the leaks revealed what he knew all along.
"It's amusing," he said. "We said that the Clinton campaign was heavily influencing what the DNC was doing regarding debates, and that's exactly what had been happening. None of that is a shock to me. Was I shocked to find out that the DNC was partial toward Clinton? Not exactly. That's something we knew from day one."
One email from Podesta labeled Sanders a "doofus." Despite the contentious and rough Democratic primary, Bernie has his hit the campaign trail for Clinton in recent weeks.
[image via screengrab]
–
Follow Justin Baragona on Twitter: @justinbaragona
Have a tip we should know? tips@mediaite.com