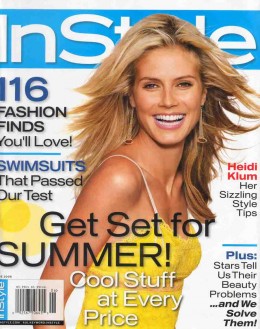 September ad sales figures came out this week for the closely watched Women's Fashion category, generating a lot of Sturm und Drang (and maybe even leading to at least one intervention). Every title is significantly down in what is always the biggest month of the year — every title but one: Time Inc.'s InStyle.
The magazine industry is clearly in decline, but nobody is sure why. Some blame outmoded business models, while others say that there is a huge ad recession. In an economic downturn, conventional wisdom dictates that luxury advertising is the first to go, and that hurts the escapist fashion titles the most. So it comes as a shock that while almost all titles in this space are down roughly 30% in ad revenue — one magazine is relatively flat — InStyle.
WWD reports that the Time Inc. celebrity/fashion title is up over 1% in September ad pages compared to last year. Taken by itself, that's not a big deal. But compared to the category average of -30%, its as if the InStyle Publisher and ad sales team lapped their field of competitors — twice!
From WWD:
Kudos to the staff at InStyle for bucking the very dismal trend. It should also be noted that InStyle is part of the People Group, headed up by Martha Nelson, which should come as no surprise – we've pointed out before that she's the real superstar of Time Inc. Could she be next in line to replace John Huey? This news certainly indicates that she should be.
Have a tip we should know? [email protected]