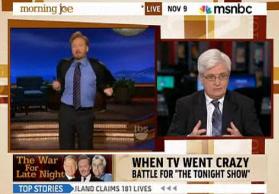 We got a preview of Bill Carter's forthcoming War For Late Night in Vanity Fair two weeks ago, but now that Conan O'Brien is back on the air, the book takes on added meaning.
Carter was a guest on Morning Joe this morning to talk about the circumstances surrounding the book, and…Sarah Palin.
One of the interesting subplots that hasn't been released is the idea that Conan's bosses wanted him to go more mainstream – more middle America. When David Letterman was in his war of words with Sarah Palin, his bosses wanted him to book the former Alaska Governor. But Conan wouldn't do it. Says Carter:
When Sarah Palin was in her big fight with Letterman, they wanted Conan to book her and he didn't want to do that because he thought, 'I don't want to have her on just to rip my competition. He thought his audience would react negatively to that. It might not have been the right decision but it was the right decision for him.
When Jay Leno re-took the Tonight Show, Palin was on his first week.
There was also a discussion about the tough competition Conan faces now at 11pmET. "I did have a quote in the book where someone says, 'young people love Conan but they'd take a bullet for Jon Stewart,'" said Carter.
And there's this unbelievable story about Ron Meyer, Universal Studios President, who, according to Carter, brokered a last minute deal among all sides that would keep Conan at NBC. He called Jeff Zucker, gave him 10 minutes to give the go-ahead, and when that expired, Conan was gone. So basically this movie will be even better than The Late Shift.
Here's the full interview, from MSNBC:


—–
» Follow Steve Krakauer on Twitter
Have a tip we should know? tips@mediaite.com