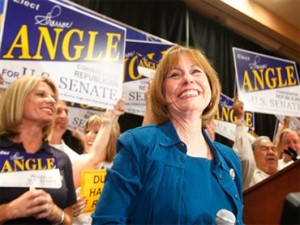 Approval ratings in Nevada for Senate Majority Leader Harry Reid aren't looking so hot after Sharron Angle won the Republican Primary Tuesday, making him one of the Democrats at risk of losing his Senate seat to a Republican in the elections this fall. To help Reid's campaign, Former President Bill Clinton went to Las Vegas yesterday to back the senator and speak with voters, as well as throw some choice words at Angle.
CNN reports that Clinton took several jabs at Angle during his half hour speech, accusing her of deliberately avoiding the media after the primary to avoid having to talk about her controversial standpoints. According to the Las Vegas Review-Journal, he found inspiration for his attacks in a childhood favorite:
"Recalling the children's books and games 'Where's Waldo?' Clinton joked, 'Now you've got to play 'Where's Sharron?' because she's hiding out, according to the local news. I might hide out, too, if I said I wanted to get rid of Social Security and Medicare.'"
Angle, who was also attacked by Clinton for her support of an unpopular plan to dump nuclear waste in a Nevada mountain, has only given interviews to conservative radio hosts since her win. Even her website has been scraped bare, leaving only a link to donate money to her cause. Angle's camp, which gained support of the Tea Party movement before the primary, denies she's in hiding.
Reid might need more than a "come out, come out, wherever you are" defense if he wants to keep his seat, but at least the humor of imagining Sharron Angle lost in a sea of bystanders wearing thick-rimmed glasses and a red scull cap has made Clinton's taunt somewhat of a success.
Have a tip we should know? tips@mediaite.com